How do you improve that confoundingly delicious creation known as deep-fried Coke? You churro the crap out of it.
Take a churro's golden, crunchy outside and its soft, chewy inside, add in enough Mexican Coke to get you heavily questioned by the Federales, make sure they're bite-sized so you have literally no way of keeping track of how much you're eating, and it's on. 
Turns out, the cane sugar that everyone loves Mexican Coke for actually helps reduce the drink into syrup, while regular Coke just kind of stays watery. And thanks to good ol' Bisquick, these are actually stupidly easy to make.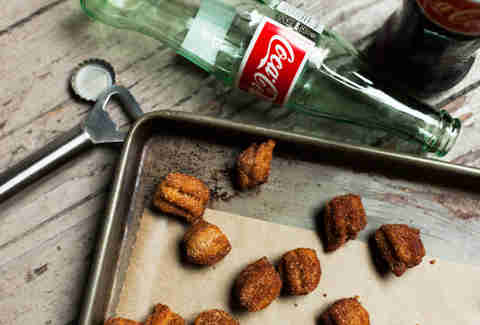 Mexican Coke Churros Recipe
Ingredients:
2 (12-ounce) bottles Mexican Coca-Cola
1 teaspoon vanilla extract
2 quarts vegetable oil
1/3 cup sugar
4 teaspoons ground cinnamon
3 1/4 cups Bisquick mix
Deep-fat fryer or 3-quart Dutch oven fitted with a deep-fat thermometer
Pastry bag (or gallon-size Ziploc bag with a corner cut off) fitted with a 1/4-inch star tip
Directions:
Heat Mexican Coca-Cola in a small saucepan over high heat until boiling. Reduce heat to medium and simmer until reduced to 1 cup, about 30 minutes. Measure out exactly 1 cup of the reduced cola and stir in the vanilla.
Heat oil to 375°F in a deep-fat fryer.
In a small bowl, mix together sugar and cinnamon; set aside.
In a large bowl, mix together Bisquick and cola until it forms a sticky dough.
Transfer dough to a pastry bag fitted with a 1/4-inch star tip. Over the hot oil, pipe out 1 inch of dough, cut it with scissors, and carefully release into the oil. Fry until golden brown, turning frequently, about 2 minutes. Remove from oil, drain on paper towels and immediately transfer to the cinnamon-sugar mixture; toss to coat.
Serve with more Mexican Coke, obviously.