Donut Chips Exist. Tell Your Friends.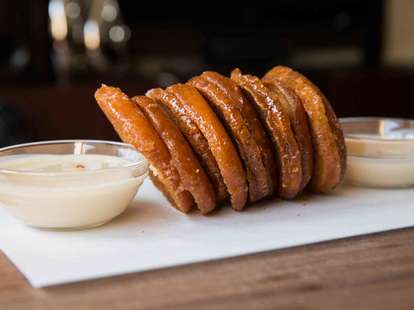 Throwing away donuts offends me. Rarely do I leave any uneaten, but it happens on occasion (I am human after all), and, when it does, I revive the day-old pastries by slicing them thinly and frying them into chips. The glaze caramelizes around the crisp dough, creating what I call a "chewy crunch."
Donut Chips

Trust us: you need donut chips in your life.

Posted by Thrillist on Thursday, October 1, 2015
Donut Chips Recipe
Total Time: 3 minutes per donutYield: As many as you can handle
Ingredients:
For the chips:
2 cups vegetable oil
However many donuts you have laying around

For the dip:
1 ½ cups powdered sugar
3 tablespoons milk
2 teaspoons vanilla extract
Directions:
Heat oil to 350℉ in a deep fryer or heavy pot fitted with an oil thermometer.
Slice each donut in half lengthwise, then slice each half in half, so you have 4 discs. Gently place them into the hot oil and fry until brown, about 1 minute each side.
Transfer to a wire rack to drain and cool slightly.
To make the dip, whisk all ingredients together in a bowl until smooth.

Sign up here for our daily Thrillist email, and get your fix of the best in food/drink/fun.
Perry Santanachote is Thrillist's recipes editor. She probably loves donuts more than Homer Simpson does. Follow her: @perrysant.