When I was a kid, my Mom made these donuts every weekend. She shaped them into X's and O's (because she loved me) and served them with a cup of Ovaltine and a cup of sweetened condensed milk for dunking (because she was trying to make me fat?).
Mom may not have taught me much about healthy eating, but the woman knew her way around cooking shortcuts. As long as you have biscuit dough, hot oil, and a desire to fatten up for the winter, you can make delicious donuts, quickly. My Mom would approve.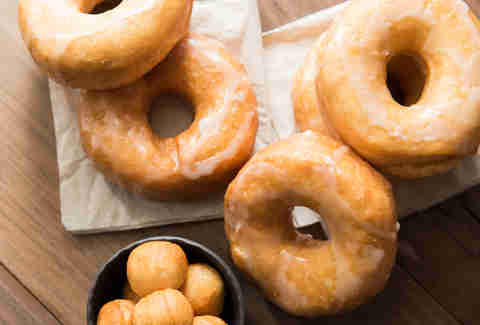 Biscuit Dough Donuts Recipe
Total Time: 15 minutes
Yield:
8 donuts + 8 donut holes
Ingredients:
Vegetable oil
1 ½ cups confectioners' sugar
3 tablespoons milk
2 teaspoons vanilla extract
1 tube Pillsbury biscuit dough
Directions:
In a heavy-bottomed pot, heat 1 inch of oil until it reaches 350℉ on a thermometer.
Place sugar in a medium bowl and whisk to remove lumps. Slowly stir in milk, a little at a time, until you have a smooth glaze. Stir in vanilla. Cover with plastic wrap and set aside.
Separate the biscuits and lay flat on a cutting board. Using a small, round cookie cutter, cut out a small circle from the center of each biscuit.
Cook the donuts in batches in the hot oil for about 1 minute per side, or until golden. Drain on a wire rack. Repeat with donut holes, but with less frying time.
While still warm, dip donuts in glaze, turning to coat completely. Return to wire rack and allow excess glaze to drip off. Eat while still warm.