Whether it's a football party, a potluck, an orgy... any gathering, really, people are always most excited about the dessert. Get your kudos without becoming a slave to the oven with these simple recipes. They have so few ingredients, they're practically idiot-proof, and they're easy to package and transport, too.
Recommended Video
Rapper E-40 Tries Portland Fried Lobster Tail With a Twist
No need to bake this cheesecake. Just mix it up, put it in a bowl, and serve with Nilla wafers. Find the recipe here.
Key ingredients:
Cream cheese
Funfetti cake mix
Powdered sugar
Don't worry about making a dessert that looks pretty. For this one, the messier the better. It's supposed to look like dirt after all. Delicious dirt. Find the recipe here.
Key ingredients:
Vanilla pudding
Cool Whip
Cream cheese
Oreos
Gummy worms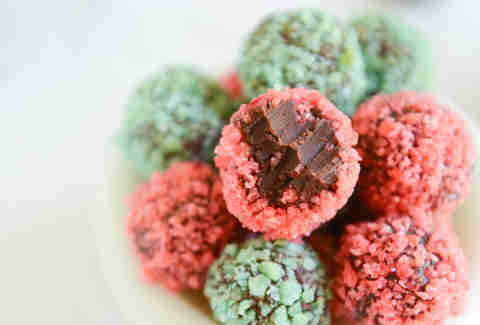 Creamy chocolate truffles coated with Pop Rocks are like firecrackers for the mouth... all the excitement without any of the debilitating pain. The mind-blowing recipe is here.
Key ingredients:
Chocolate
Cream
Pop Rocks
The most time-consuming part of baking cookies is scooping and portioning out each one. You can skip all that and just dump the dough into a pie plate. Get the recipe.
Key ingredients:
Chocolate chips
Old-fashioned oats
Other cookie stuff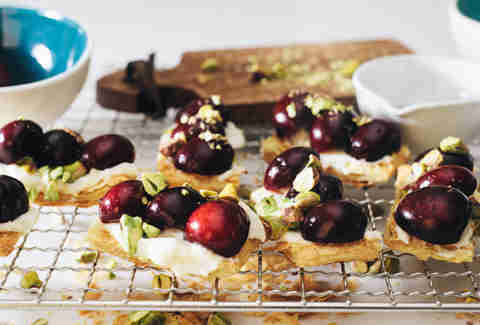 Flaky, creamy, and fruity, this simple dessert hits all the sweet notes. The recipe's right here.
Key ingredients:
Puff pastry
Ricotta
Cherries
Pistachios
Going to the movies as a group is fun, until you all awkwardly try to share six boxes of candy and a bucket of popcorn. Fuse the chewy, crunchy, salty, and chocolatey together so everyone has a little bit of everything. Recipe here.
Key ingredients:
Chocolate
Popcorn
Peanuts
Assorted candies
No one gets excited about matzo. UNLESS it's covered in chocolate, nuts, coconut flakes, and sweetened condensed milk. The genius recipe is here.
Key ingredients:
Matzo
Nuts
Chocolate chips
Coconut
Condensed milk
Don't be fooled by the "salad" in the name -- there's nothing green in this simply decadent dessert. It's like fresh strawberry pie, creamy cheesecake, and a salty pretzel all in one. Get the recipe here.
Key ingredients:
Pretzels
Strawberries
Cream cheese
Cool Whip
Strawberry Jell-O
Crunchy ribbons of potato chips make these fudgey brownies even better than French fries with Frostys. The salty-sweet recipe is right here.
Key ingredients:
Bittersweet chocolate
Unsweetened cocoa powder
Potato chips
If Rainbow Brite went to a potluck, this is what she'd bring. It's bright blue and cheery. The easy recipe is here.
Key ingredients:
Graham cracker crust
Cool Whip
Kool-Aid drink mix
This chocolate-covered toffee is so addictive, no one would blame you if you opted not to share. Recipe here.
Key ingredients:
Butter
Chocolate
Sugar
Pecans
Sign up here for our daily Thrillist email, and get your fix of the best in food/drink/fun.
Perry Santanachote is Thrillist's recipes editor and dessert is her favorite meal of the day.