Drool Over This 30-Minute Peanut Butter and Marshmallow Fluff Skillet Cookie
Kailley Lindman/Thrillist
Kailley Lindman/Thrillist
Few flavor combinations conjure up nostalgia the way that peanut butter and Marshmallow Fluff does. Affectionately known by loyalists like me as "Fluffernutter," the ingredients effortlessly strike a balance between sweet and savory, making them prime for sandwiches, cookies, and just about every fathomable edible form in between. Given my recent affinity for cast-iron skillets, I decided to create a single-serving Fluffernutter skillet cookie. The cookie remains crisp along the edge and gooey at the center, is studded with a mix of peanut butter and semisweet chocolate chips, and is finished with swirls of peanut butter and Fluff. For the full effect, top it with a scoop of ice cream and an extra flurry of peanut butter chips.
For more of my cast-iron recipes -- like this raspberry-vanilla bean Dutch baby -- check out my blog or follow me on Instagram (@kailleyskitchen).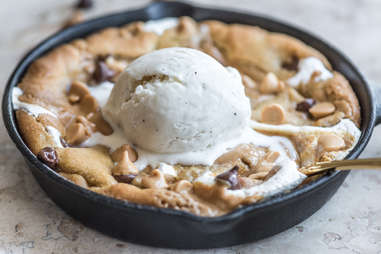 Fluffernutter Skillet Cookie Recipe
Total Time: 30 minutes
Yield: One 6-inch skillet cookie (feeds one exceptionally hungry person or two reasonably hungry people)
INGREDIENTS:
3 tablespoons unsalted sweet cream butter, browned
2 tablespoons light brown sugar, packed
1 ½ tablespoons granulated sugar
1 large egg yolk
½ teaspoon pure vanilla extract
5 tablespoons all-purpose flour
¼ teaspoon baking soda
⅛ teaspoon salt
¼ cup peanut butter chips
¼ cup semisweet chocolate chips
¼ cup creamy peanut butter
¼ cup Marshmallow Fluff
DIRECTIONS:
Preheat oven to 350 degrees F and thoroughly grease a 6-inch cast-iron skillet with butter
In a small mixing bowl, whisk together melted butter and sugars until smooth
Add egg yolk and vanilla extract and whisk until just combined
In a separate small mixing bowl, sift together flower, baking soda, and salt
Pour wet ingredients into dry ingredients and stir with a wooden spoon, scraping down the sides of the bowl as necessary, until incorporated
Fold in peanut butter chips and chocolate chips
Press about ⅔ of the cookie dough into the skillet until a thin layer covers the base of the skillet
Use a spoon to place small dollops of Marshmallow Fluff over the dough
Crumble bits of remaining dough over the Fluff layer (be sure to let some of the Fluff stay exposed -- this will result in a marbled effect once the cookie bakes)
Use a spoon to place small dollops of peanut butter over the dough and Fluff
Bake for 12-14 minutes, or until the edges of the cookie start to turn golden brown (the center of the cookie may be slightly under-baked -- it's better this way! And it will continue to bake through a bit as it cools.)
Allow skillet cookie to cool slightly (about 5 minutes) on a wire cooling rack
Top with ice cream and enjoy!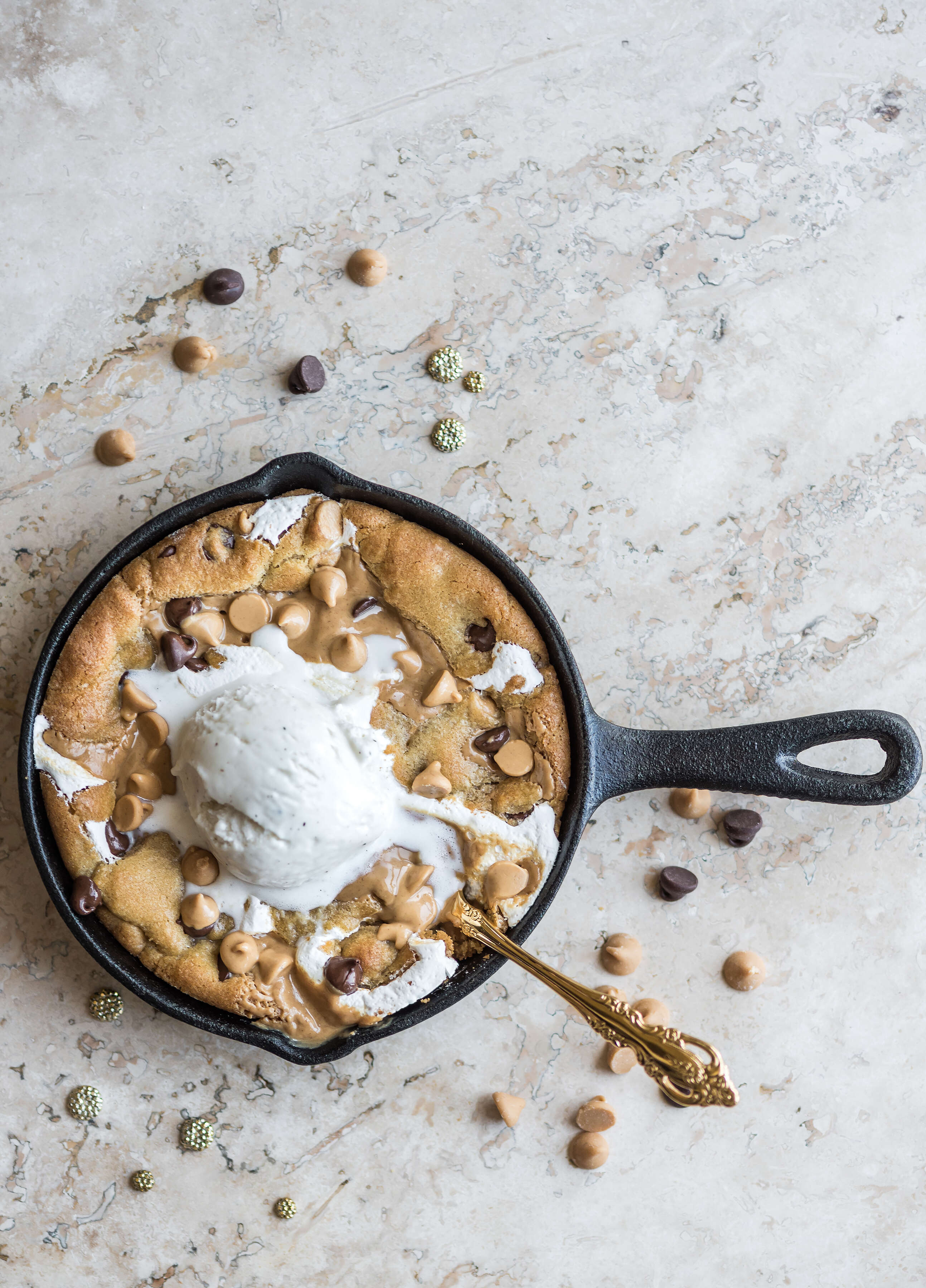 Sign up here for our daily Thrillist email, and get your fix of the best in food/drink/fun.
Kailley Lindman is a contributing recipe developer and writer for Thrillist, as well as a freelance food photographer, food blogger at KailleysKitchen.com, and recovering vegetarian. Follow her at @KailleysKitchen.