Slow Cooker Cocktails to Help You Survive the Holidays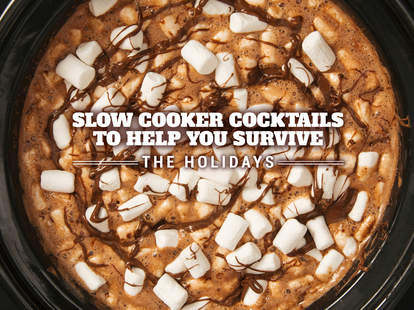 "Now is the winter of our discontent," said every sober person ever, and also Shakespeare.
But it doesn't have to be that way! Here to aid you through the bone-chilling pain that is attending Thanksgiving/Diwali/Christmas/Chanukah/Boxing Day with people you are forced to interact with through blood or marriage (sometimes both, if you're from Florida) are five delicious cocktails that can be cooked right in your Crock-Pot -- Crocktails, if you will.
OK, I know that name is awful. Just be thankful for an article that mentions winter, but has zero Game of Thrones references. Well, except for that one. Take the wins where you can get them.
Cole Saladino/Thrillist
(Definitely not Harry Potter™) Butter Beer
INGREDIENTS:
At least two 2L of cream soda
3 tsp butterscotch extract
Rum
Whipped cream
2 tsp vanilla extract
Cinnamon (optional)
DIRECTIONS:
OK, so pour all the cream soda into the crockpot first.
Add rum.
Add the butterscotch and vanilla extract and stir.
Add whip cream to the top and stir (if you want).
Cook for like, an hour.
When drinking, feel free to add whipped cream to the top of you glass, and sprinkle in a little cinnamon if you are feeling spicy.
Don't add actual beer to the drink.
Rejoice.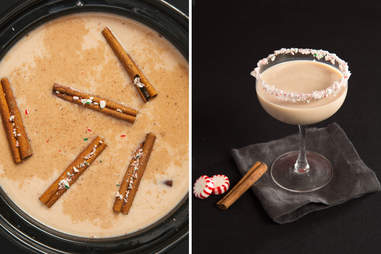 Cole Saladino/Thrillist
Non-Denominational Rumchata Nog Explosion
INGREDIENTS:
Eggnog
Milk (optional)
Rumchata
More rum (optional, but highly recommended)
2 tbsp vanilla extract
Cinnamon sticks
Peppermint candy
1 tbsp nutmeg
DIRECTIONS:
Fill the pot with eggnog, you can cut it with milk if you prefer it to be a little thinner (I'd recommend it).
Add the Rumchata, and if you're trying to get saucy, a few shots of rum (I'd recommend it).
Plop in some peppermint candy, cinnamon sticks, 1 tbsp vanilla extract, and1 tbsp of nutmeg.
Cook for like, 30-60 minutes.
Put your some extra peppermints in ziplock bag, hit vigorously with a hammer, rim your glass with the dust to get super fancy.
Rejoice.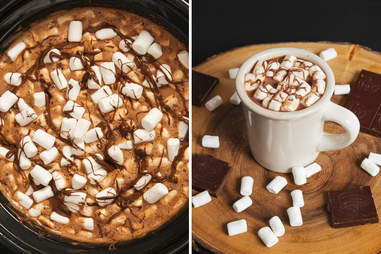 Cole Saladino/Thrillist
Chocolate-Whiskey-Nutella-Marshmallow-Coffee Clusterfuck
INGREDIENTS:
Milk
Hot chocolate mix
Nutella
Coffee
Marshmallows
Whiskey
DIRECTIONS:
So, fill most of the crock pot with milk.
Put some coffee in there, doesn't need to be heated (I used cold brew).
Add desired amount of whiskey.
Put 1/2 cup of hot chocolate mix in there, stir with passion.
Microwave a bowl of Nutella, drip it in there, stir with passion.
Put marshmallows on top, and drizzle some more Nutella.
Let it cook for like 3 hours for optimal flavor, or at least one hour if you are feeling antsy.
Pour, and decorate top with more marshmallows and Nutella drizzle.
Rejoice.
Cole Saladino/Thrillist
Chamomile Toddy, with Bourbon
INGREDIENTS:
Chamomile tea bags
Sliced lemons
Cinnamon sticks
Anis stars
Whiskey and/or brandy
1 tbsp honey
White wine (optional)
DIRECTIONS:
Add about six or seven tea bags to water in the slow cooker, draping the strings over the side.
Cut up a bunch of lemons, and add them liberally.
Stick 1 tbsp of honey in there.
Toss some anis stars on top.
Cook for like, 2 hours.
Rejoice.
Cole Saladino/Thrillist
Johnny Appleseed's Premium Elixir Featuring Alcohol
INGREDIENTS:
Apples
About two 2L of apple cider
Cinnamon sticks
Cinnamon
Bourbon
Fireball -- or something like Fireball
Whipped cream
DIRECTIONS:
Slice your apples.
Add all the cider to the pot.
Pour in bourbon, add a couple shots of the Fireball stuff.
Insert the cinnamon sticks, apples, and a couple pinches of actual cinnamon.
Cook for like, 2 hours.
Pour into a hipsterific Mason jar, top with whipped cream.
Rejoice.