Finally: Cookie Dough That's Meant to Be Eaten Without Baking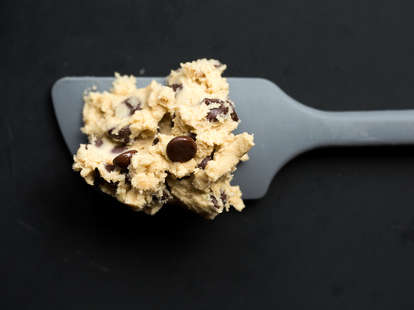 Perry Santanachote/Thrillist
The second best thing about baking cookies is eating them straight from the oven. What's actually the best? Skipping the baking sheet and eating the dough raw, of course. However, as an adult, I'm slightly less inclined to go for the raw dough. As much as I love to live life on the edge, food poisoning is awful. The good news is that eggs don't really do anything for the dough until you bake it. And since I won't be turning the oven back on until October, I omitted the eggs and created a cookie dough meant to be spooned directly into my mouth, which saves the stomachache. Unless you eat it all in one sitting. Don't do that.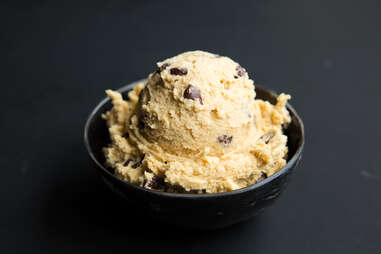 Perry Santanachote/Thrillist
Edible Cookie Dough Recipe
Total Time: 5 minutes
Yield: 2 cups
INGREDIENTS:
1 stick unsalted butter, at room temperature
¾ cup packed light brown sugar
½ teaspoon salt
2 tablespoons milk
1 teaspoon vanilla extract
1 cup all-purpose flour
1 cup chocolate chips
DIRECTIONS:
In a large mixing bowl with an electric mixer, beat together butter, sugar, and salt until light and creamy.
Add milk and vanilla; mix until combined.
Stir in flour until just combined.
Fold in chocolate chips.
Eat immediately or keep covered and refrigerated.
Perry Santanachote/Thrillist
Perry Santanachote/Thrillist