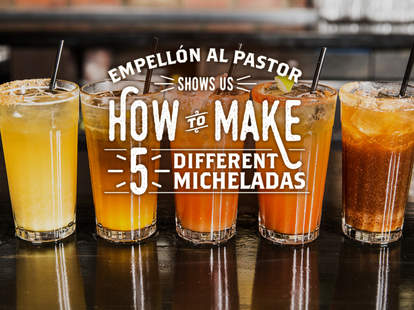 Empellón Al Pastor Shows Us How to Make 5 Different Micheladas
We say tomato, they say tomate. We say Bloody Mary, they say michelada. Well, that's not a literal translation (michelada is Spanish for "my cold beer") but the michelada is widely known as the Mexican Bloody Mary. They're just as fiery and flavorful, but sub beer for vodka.
The michelada traditionally is made with tomato juice, Maggi seasoning, Worcestershire, lime juice, and hot sauce, and served in a pint glass with ice and a salted rim. However, it's a cocktail that provides lots of room to play with. When mixing your own, aim for 1-2 ounces of mix and 4-5 ounces of beer.
Need some ideas? Empellón Al Pastor in New York created an extensive menu of inspired micheladas to accompany its signature spit-roasted pork and pineapple tacos al pastor. Wylie Dufresne and Andrew Zimmern even contributed a couple. The restaurant's beverage director shows us how to make them below and gives the recipe for his favorite.
Al Pastor's most popular michelada is made by blending up serrano chiles, reposado tequila, and agave nectar. All of that is then topped off with Mexicali beer and garnished with chile salt.
By Wylie Dusfrene
Elote (Mexican grilled corn) was the inspiration for this one, which is made by combining corn powder with spicy Tajín seasoning, ponzu, and Malta Goya malt beverage. That mixture is topped with Negra Modelo beer and served with even more powdered corn and Tajín on the rim.
Calling a man cuñado is a subtle yet brash way of saying, "I'm fucking your sister, bro." The spice in this michelada has the same nuance. The heat is initially restrained and floral-like, masked by the sweet passionfruit, but then you realize it's a habanero chile and habaneros burn like motherfuckers... or in this case... sisterfuckers??
Al Pastor actually deep-fries the chiles without the seeds, so El Cuñado isn't crazy spicy, but it's still got a bite. The chile paste is then blended with passionfruit puree, and topped off with Victoria beer.
By Andrew Zimmern
El Chambovaca is essentially a riff on the Bloody Buddy and roughly translates to "eat like a pig, fuck like a bull."
The foundation is beef broth, chipotle peppers, and Campbell's tomato juice. It's then spiked with Dulce Vida 100-proof reposado tequila and topped with Modelo Especial beer. Garnish with smoked salt and more beef, in the form of jerky.
If you're thinking, "Hmm, that's a lot of beef for drinking." Don't worry, the alcohol totally cuts the flavor.
Emoticon
Total Time: 15 minutes
Yield: 8
INGREDIENTS:
2 ½ tablespoons white miso paste
2 tablespoons fresh orange juice
¾ cup yuzu juice
1 tablespoon agave syrup
1 tablespoon shichimi togarashi
3 tablespoons kosher salt
DIRECTIONS:
To make the yuzu-miso mix, whisk all ingredients in a liquid measuring cup until well combined. Strain the mixture through a cheesecloth.
To make the togarashi salt, grind all ingredients in a molcajete (or mortar and pestle) until evenly blended. 
Rim a beer glass halfway with togarashi salt.
Fill glass with ice.
Add 1 ounce of yuzu-miso mix. Top with Mexicali beer.
Serve remainder of beer can on the side.