These Fluffernutter Wings Are More New England Than the Patriots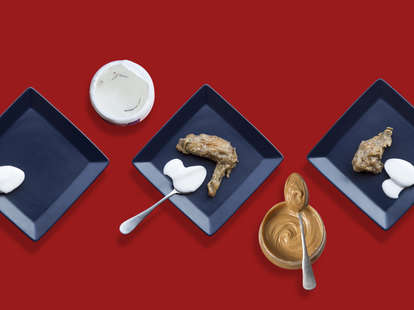 Baked beans, clam chowder, and cream pie all have their place in New England food history, but the most inspiring regional dish is the Fluffernutter -- a peanut butter sandwich with Marshmallow Fluff. It's the most popular duo in New England -- right after Gisele and whomever she married -- so it was definitely time the salty-sweet combo danced with savory chicken wings.
When you start to cry over the overwhelmingly patriotic marriage of Nick Offerman and NASCAR on Sunday, bury your face in a plate of these peanut butter-glazed wings, dipped in toasted Fluff. You could even, uh, deflate the wings and go boneless. Either way, you can't lose (or so we hear).
Fluffernutter Wings Recipe
Total Time: 1 hour, 15 minutes
Yield: 12 wings
INGREDIENTS:
12 (about 2 pounds) chicken wings, drumettes and flats separated
Cooking oil spray
1 tablespoon kosher salt
1/2 teaspoon freshly ground black pepper
2 shallots, roughly chopped
2 cloves garlic
1/4 teaspoon nutmeg
1/2 teaspoon salt
3/4 cup heavy cream
1 tablespoon sugar
2 teaspoons vinegar
1/2 cup creamy salted peanut butter
1/4 cup water
1 (7-ounce) jar Marshmallow Fluff
DIRECTIONS:
Preheat oven to 400°F.
Set a wire rack inside a rimmed baking sheet. Spread wings on the rack in a single layer. Spray with cooking oil, and sprinkle with salt and pepper. Bake until skin is golden brown and crispy, 45-50 minutes.
In the meantime, make the glaze. In a food processor, blend the shallots, garlic, nutmeg, and salt until it's a thick paste. Transfer to a small saucepan and cook over medium heat for 3 minutes. Add cream, sugar, and vinegar; bring to a simmer. Reduce heat to low and stir in peanut butter and water until combined. Remove from heat and set aside to cool for 15 minutes.
Once glaze cools down, pour it back into the food processor and blend until smooth. Transfer to a large bowl.
Remove wings from oven and place them in the glaze; toss to thoroughly coat. Return wings to the rack and bake until glaze is glossy and lightly caramelized, about 10 minutes.
Let wings cool on the rack for 5 minutes.
Serve hot with Fluff on the side or smear a spoonful of Fluff on each wing. If you want to get real crazy, toast them ever so gently with a blowtorch.