Matthew Albanese/Thrillist
Most kitchens tend to accumulate a little bit of everything over time (that panini press seemed clutch at the time), from eggs and salt to that weird speciality vinegar you bought when feeling particularly culinarily adventurous. Which is exactly why it's silly to keep buying certain staples when you have almost all the ingredients to make them yourself, for less. We got some pros to put together some classic go-to items that you can easily make at home, and threw in a way to amp up the recipes (blackberry ketchup, anyone?).
INGREDIENTS:
2 pasteurized egg yolks
1 tablespoon water
1 tablespoon white wine vinegar
1 teaspoon dry mustard or 2 teaspoons prepared mustard
1/4 teaspoon sugar
2 cups vegetable oil
Salt, as needed
Ground white pepper, as needed
1 tablespoon fresh lemon juice
DIRECTIONS:
Combine the egg yolks, water, vinegar, mustard, and sugar in a bowl. Mix well with a balloon whisk until the mixture is slightly foamy.
Gradually add the oil in a thin, steady stream, whisking constantly, until the oil is incorporated and the mayonnaise is emulsified, smooth, and thick.
Season with salt, white pepper, and the lemon juice.
Use the mayonnaise immediately, or refrigerate in a clean airtight container for later use.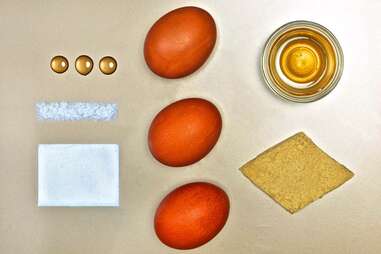 Heywood's Mustard

Yield: 2 cups
INGREDIENTS:
1/2 cup plus 2 tablespoons dry mustard
1 tablespoon sugar
1 teaspoon kosher salt
3 eggs
1 cup malt vinegar
1/4 cup honey
DIRECTIONS:
In a small heat-proof bowl, combine the mustard, sugar, and salt.
Add the eggs and whisk until smooth.
Whisk in the vinegar and honey. Cover and refrigerate for 1 to 2 hours.
Place the bowl over a hot water bath and whisk constantly until the mixture is thick and creamy, about 4 minutes. Cover and refrigerate until cold.
Transfer to a clean storage container. Cover and refrigerate for up to 2 weeks.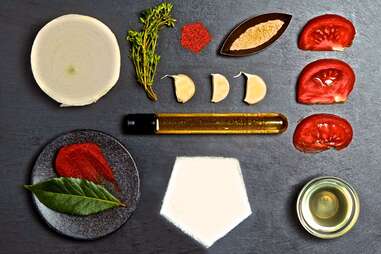 Ketchup

Yield: About 2 cups
INGREDIENTS:
1 tablespoon olive oil
1/2 cup onion, diced
3 cloves garlic, minced
2 tablespoons freshly chopped thyme
2 cups tomatoes, roughly chopped
3 tablespoons sugar
3 tablespoons cider vinegar
1 tablespoon tomato paste
1 bay leaf
1/4 teaspoon mustard powder
Pinch cayenne pepper
Pinch allspice
Salt, as needed
DIRECTIONS:
In a medium pot, heat the oil over medium heat. Add the onions and garlic, and sweat until onions are translucent, about 3 to 4 minutes.
Add the remaining ingredients and bring to a boil. Reduce the heat to low, and simmer the ketchup until it is slightly thick, about 35 to 45 minutes.
In a food processor or with a blender, puree the ketchup until smooth. Cool completely and store until needed.
INGREDIENTS:
3 cups bread flour (plus additional flour for dusting)
1 1/4 teaspoons salt
1/4 teaspoon instant yeast
1 1/3 cups cool water
DIRECTIONS:
Combine flour, salt, and yeast in bowl.
Stir in water until dough becomes tacky -- add a tablespoon or more of water as needed to achieve the right stickiness.
Cover bowl with plastic or a towel, and leave on counter between 12 and18 hours, until it doubles in size.
Flour hands and a surface, and make a ball with the dough, pulling edges into center. Place the ball seam side down in a flour-dusted towel for a couple of hours, until you can press your finger 1/4 inch in and leave an impression.
Heat up oven to 475 degrees, and put a dutch oven in while it's heating up. Dust pot with flour.
Bake bread ball, seam up, in towel -- covered for 30 minutes and uncovered for 10. Cool for an hour.
Hot Pepper and Garlic Sauce

Yield: 1 cup
INGREDIENTS:
6 green hot chiles, seeded and chopped
1/4 cup garlic, roughly chopped
1/2 cup fresh lime juice
1/2 cup olive oil
2 teaspoons kosher salt
1/2 teaspoon cracked black pepper
DIRECTIONS:
Place the chiles and garlic in a food processor and pulse until smooth.
Transfer the chile and garlic mixture to a bowl, and add the lime juice, oil, salt, and pepper.
Mix well. Refrigerate in an airtight container until needed, up to 2 weeks.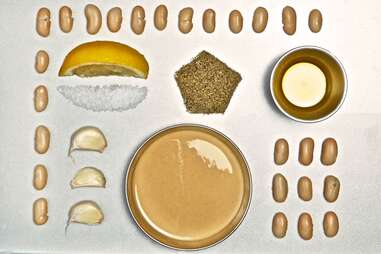 INGREDIENTS:
1 1/2 cups Cannellini beans, cooked and drained
1 tablespoon Tahini
2 teaspoons lemon juice
2 tablespoons extra virgin olive oil
1 garlic clove, minced
1 teaspoon fresh ground black pepper
DIRECTIONS:
Combine all ingredients. Purée in food processor until smooth, adding drops of water to thin if needed. Adjust seasoning with salt and pepper.