Deep-fried chicken pot pies are way better than your Mom's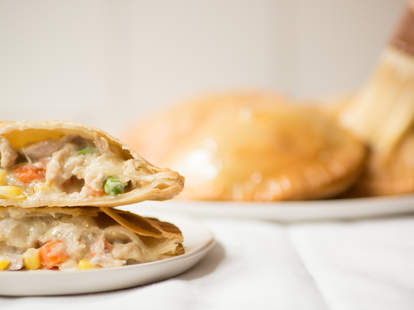 Though chicken pot pie is delicious, it can suffer from two fatal flaws: soggy crust, and the fact that I can't eat it while I play squash. I figured the best way to ensure a crispy, golden-brown crust from top to bottom was to fry the whole damn thing. Not only am I guaranteed crisp, flaky crust every time, but I can literally go anyplace -- park, subway, squash court -- while eating a chicken pot pie with one hand and flashing my thumbs-up with the other.
Drew Swantak
Deep-fried Chicken Pot Pie Recipe
Total Time: 1 hour
Yield: 8
INGREDIENTS:
1 ½ sticks unsalted butter
1/2 small yellow onion, chopped
1/3 cup all-purpose flour
1/2 teaspoon salt
1/4 teaspoon dried thyme
1/4 teaspoon ground black pepper
1 ¾ cups chicken broth
1/2 cup milk
1 rotisserie chicken, meat only, shredded (about 2 ½ cups)
10 ounces (2 cups) frozen mixed vegetables (peas, carrots, corn), thawed
2 quarts vegetable oil
16 frozen empanada wrappers or "discos", thawed
DIRECTIONS:
In a large saucepan, melt 1 stick butter over medium heat. When foam starts to subside, add onion; cook until soft, 2 minutes. Stir in flour, salt, thyme, and pepper until well-blended. Gradually stir in broth and milk. Cook, stirring constantly, until thickened, about 2 minutes. Stir in chicken and vegetables. Remove from heat.
Heat oil to 350℉ in a deep fryer or heavy-bottomed 4-quart pot fitted with an oil thermometer.
Lay empanada wrappers on a lightly floured surface. Dip a finger in water and brush along edges to moisten. Scoop 1/2 cup of chicken mixture into the center of 8 wrappers. Flip the other wrappers on top of the filling so that moist edges match up and seal in the filling; crimp edges closed with the tines of a fork.
Melt remaining 1/2 stick butter in a small dish in the microwave.
Gently place 2-3 pies at a time into the hot oil and fry until golden brown, about 2-3 minutes each side. Remove from oil and place on paper towels to drain. Immediately brush both sides with melted butter.
Drew Swantak