The Best Damn Denver Omelet Deviled Eggs Recipe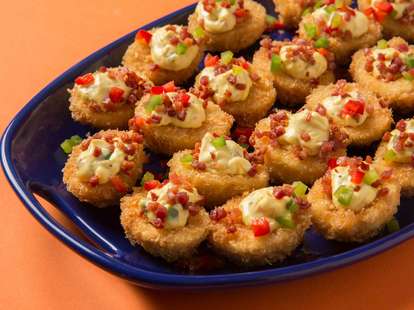 Have I mentioned that I'm a Broncos fan? Like a crazy Broncos fan? Like the kind that makes food to match the games? The kind that dresses her dog in blue-and-orange regalia on Sundays?
Yeah, it's no secret I'm excited about the Super Bowl this year, but I promise this is my final Denver-themed recipe (of the season).
I'm not sure how Denver became famous for its omelets -- it's just eggs, ham, and peppers -- but man is it a winning combo (like a certain team from the same city). Deviled eggs are already a no-fail party food, but I felt inspired to dress them up with crispy pancetta and bell peppers for the big game. Oh, and they're fried, too, because why not?
Denver Omelet Deviled Eggs Recipe
Total Time: 1 hour
Yield: 24
INGREDIENTS:
15 eggs
⅔ cup mayonnaise
1 tablespoon white vinegar
1 tablespoon yellow mustard
½ teaspoon kosher salt
½ teaspoon freshly ground black pepper
½ teaspoon onion powder
1 quart vegetable oil
1 cup all-purpose flour
2 cups panko breadcrumbs
4 ounces diced pancetta
½ red bell pepper, finely chopped
½ green bell pepper, finely chopped
Hot sauce, for serving
DIRECTIONS:
Place 12 eggs in a single layer in a medium saucepan and fill with enough water to cover eggs by an inch. Bring to a boil. Cover, remove from heat, and leave covered for 15 minutes.
Rinse under cold water for 1 minute. Crack egg shells and carefully peel under cool running water.
Slice eggs in half lengthwise, removing and transferring yolks to a medium bowl, and placing the whites aside.
Mash yolks into a fine crumble using a fork. Add mayonnaise, vinegar, mustard, salt, pepper, and onion powder; mix well. Stir in bell peppers until combined. Transfer mixture to a large Ziploc bag and chill in the fridge while you fry the egg whites.
Heat oil to 375℉ in a deep fryer or heavy pot fitted with an oil thermometer.
Whisk 3 raw eggs in a shallow dish. Put flour in another dish and panko in a third dish. Dredge egg whites in flour, then beaten eggs, then panko. Carefully place crumb-coated egg whites into hot oil and cook for 1 minute, or until they are crisp and golden brown. Remove and drain on a rack or paper towel.
Cook pancetta in a medium skillet until crispy, about 5 minutes.
Snip a corner off the Ziploc bag and pipe the yolk mixture onto the fried egg whites. Sprinkle pancetta on top.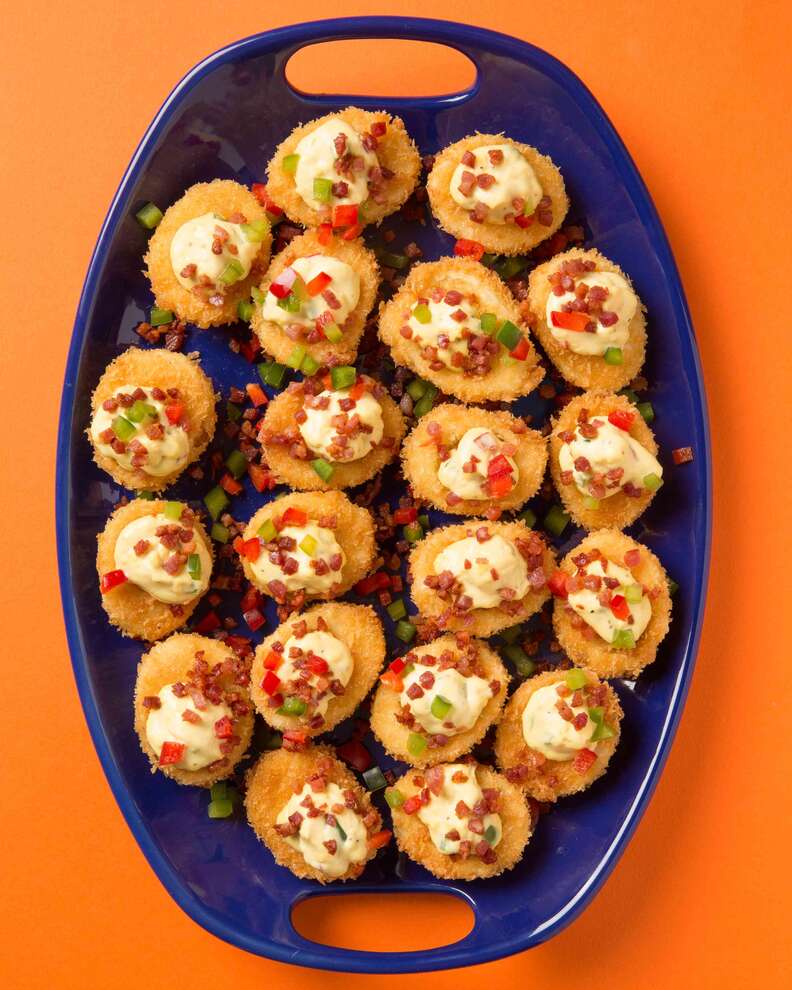 Sign up here for our daily Thrillist email, and get your fix of the best in food/drink/fun.
Perry Santanachote is Thrillist's recipes editor and wishes you a happy Super Bowl Sunday. Follow her at @perrysant.