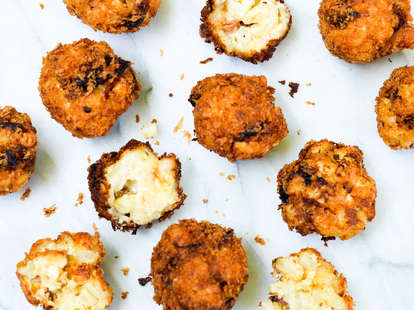 When faced with the prospect of a giant, bubbling pan of mac & cheese filled with smoked brisket ends, the natural instinct is to just dig straight in with your hands, third-degree burns and mess be damned. But it doesn't need to be that way. In fact, with this recipe, you can transform that gold into hand-held, poppable bites with the help of a deep fryer. Just be sure to let them cool… third-degree burns in the mouth are no joke.
Fried Brisket Mac & Cheese Bites
INGREDIENTS:
DIRECTIONS:
1. In a large heavy pot -- we recommend a Dutch oven -- set with a candy thermometer, heat 3 inches of oil to 325° over medium heat. Seal the panko in a gallon-size zip-top bag and roll a rolling pin or wine bottle over it a few times to break up the larger pieces, season with 1 teaspoon salt and ½ teaspoon pepper, then transfer to a shallow baking dish. In a mixing bowl, whisk eggs and water together until uniformly yellow. Put the flour in a large mixing bowl.

2. Cut refrigerated Baked Mac & Cheese with Brisket into 1-inch squares and carefully lift out of the pan using a spatula. Working in batches, dredge the squares in flour, shaking off the excess, coat in egg wash, and thoroughly coat with panko. Fry until golden and heated through, approximately 3-5 minutes per batch. Let the oil come back to temperature between batches, about 1 to 3 minutes. Drain bites on a paper towel-lined baking sheet. Serve hot with barbecue sauce on the side.
Sign up here for our daily Thrillist email, and get your fix of the best in food/drink/fun.