Make Fried Mashed Potato Gravy Bombs, Snub All Other Side Dishes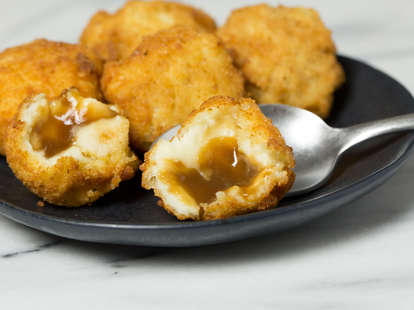 Cole Saladino/Thrillist
Cole Saladino/Thrillist
Eating mashed potatoes and gravy doesn't have to be any more involved than a spoon and your mouth, but sometimes the path of least resistance limits you from experiencing truly transcendent tastes. Such is the case for this recipe for bite-sized mashed potato bombs that explode with warm gravy. Apparently the only thing that could make the combo better is a crispy fried crust.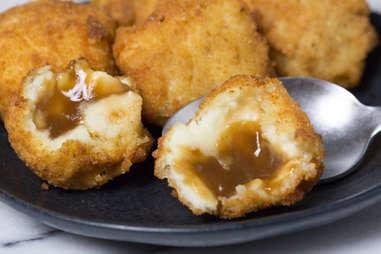 Fried mashed potatoes and gravy bombs recipe
Total Time: 35 minutes, plus freezing time
Yield: 32-36 bombs
INGREDIENTS:
1 cup gravy
4 cups cold mashed potatoes
3 ounces cream cheese, softened
¾ cup grated Parmesan cheese
½ teaspoon salt
¼ teaspoon ground black pepper
1 cup flour
2 eggs, whisked
1 cup plain breadcrumbs
2 quarts vegetable oil, for frying
DIRECTIONS:
Pour gravy into an icecube tray and freeze for at least 4 hours, or overnight. Unmold gravy cubes and cut them into 4 smaller pieces.
In a large bowl, mix together mashed potatoes, cream cheese, Parmesan cheese, salt, and pepper.
Place flour, eggs, and breadcrumbs in three separate bowls. Wrap 2 tablespoons of mashed potatoes around 1 gravy cube. Dredge in flour, shaking off the excess, dip into eggs, and coat in breadcrumbs. Repeat with remaining mashed potatoes and gravy.
In a deep fryer, heat oil to 375°F. Fry potato balls, a few at a time, for 3 to 4 minutes or until golden brown. Remove with a slotted spoon to paper towels to drain. Serve warm.