Girl Scout Cookie Cream Pie Earns All the Merit Badges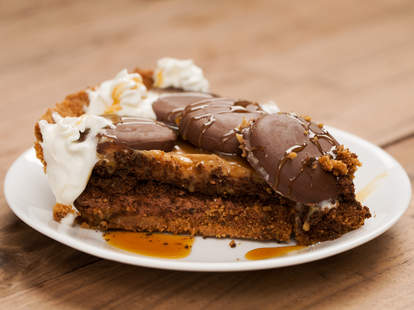 Choosing your favorite Girl Scout Cookie is much harder than picking your favorite child (or so my Mom says). And while I have no offspring of my own, I've never been able to choose between Tagalongs, Do-si-dos, Samoas, and Thin Mints. I may even have room somewhere in my heart for Trefoils.
But my inability to pick a favorite is your gain, as my Girl Scout Cookie cream pie is a Frankenstein-esque beauty consisting of three layers of different cookies between chocolate and peanut butter creams. That's right, ladies, we can have it all.
Drew Swantak/Thrillist
Girl Scout Cookie Cream Pie
Total Time: 1 hour, 30 minutes
Yield: 9-inch pie
INGREDIENTS:
1 box (8 ounces) Do-si-dos
5 tablespoons unsalted butter, melted
1/4 cup sugar
1/8 teaspoon salt
1/2 cup semisweet chocolate chips
3/4 cup heavy cream
1/4 teaspoon peppermint extract
1/2 box (4 ½ ounces) Thin Mints
3/4 cup heavy cream
2 tablespoons sugar
1/2 cup smooth peanut butter
2 boxes (13 ounces) Tagalongs
Whipped cream and caramel sauce for garnish (optional)
DIRECTIONS:
Preheat oven to 350℉.
In a food processor, pulse Do-si-dos until finely ground. Add butter, sugar, and salt; pulse until combined. It should look like wet sand.
Firmly press crumb mixture into the bottom and sides of a 9-inch pie dish. Bake until fragrant and edge is deep brown, 12-14 minutes. Let cool completely on a wire rack.
For the chocolate cream, place chocolate chips in a metal bowl. Heat cream in a small saucepan until it bubbles around edges. Pour cream over chips, let stand 5 minutes; stir until smooth. Refrigerate until chilled, about 15 minutes.
In the meantime, process the Thin Mints until finely ground and set aside.
Using an electric mixer or a whisk, whip the chocolate cream to stiff peaks; set aside.
For the peanut butter cream, whip cream in a medium bowl to soft peaks. Add sugar and whisk until stiff peaks. Fold whipped cream into peanut butter.
Spread chocolate cream in an even layer on the bottom of the crust. Spread Thin Mints crumbs over the chocolate cream. Spread peanut butter cream over the crumbs. Top with Tagalongs. Cover and chill in refrigerator until set, at least 30 minutes or overnight.
Finish with fresh whipped cream and caramel sauce before serving.
Drew Swantak/Thrillist