Girl Scout Cookie Oreo Brownies Are Stupidly Easy to Make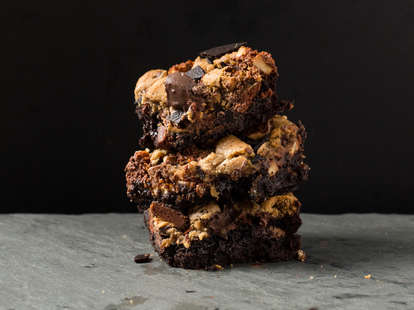 Cole Saladino/Thrillist
Cole Saladino/Thrillist
"Slutty brownies," aka an Oreo, brownie, chocolate chip cookie three-way, are delicious in their own right, but add in some crushed-up Girl Scout Cookies and these bars become a whole other beast.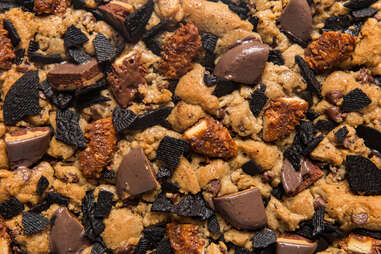 Girl Scout Cookie Brownies Recipe
Total Time: 1 hour
Yield: 9-16 bars
INGREDIENTS:
1 package brownie mix (plus ingredients to cook it)
16 Girl Scout Cookies of your choice (we used Samoas and Tagalongs)
8 Oreos
2 cups chocolate chip cookie dough
DIRECTIONS:
Preheat oven to 350℉. Line a 9x9-inch baking pan with foil, grease with cooking spray; set aside.
Prepare brownie mix according to box instructions. Pour into the prepared baking pan; level with a rubber spatula. Spread 20 cookies in an even layer over the brownie batter. Place cookie dough over the cookies. Chop the remaining cookies and sprinkle on top. Bake for 35-40 minutes, until a toothpick inserted into the center comes out clean.
Let cool in pan before slicing into bars.
Sign up here for our daily Thrillist email, and get your fix of the best in food/drink/fun.
Perry Santanachote is Thrillist's Recipes editor. She was a Girl Scout Brownie in her youth. Follow her at @perrysant.