Grilled Fruit Cobbler Will Improve Your Memorial Day Weekend
Drew Swantak/Thrillist
Drew Swantak/Thrillist
In the marathon of grilling season, Memorial Day is the first big qualifying race. The basic brats and burgers will give you a head start, but, to actually finish the race, you're going to need the illegal steroids of the grilling world: fruit cobbler. That's not just because anyone eating sausage, burgers, and then dessert can't finish a marathon alone; it's also because it's damn delicious. Just toss some peaches on the grill, whip up a quick batter, combine the two in a cast-iron skillet, and set it aside on the cooler end of the grill. By the time everyone's done with their savories, the cobbler will be browned and bubbling.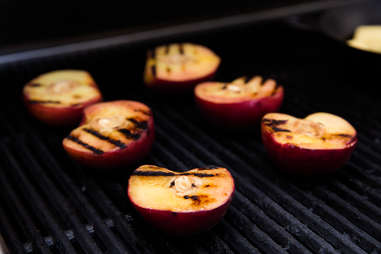 Grilled Fruit Cobbler Recipe
Total Time: 1 hour
Yield: 4-6 servings
INGREDIENTS:
3-4 stone fruits (peaches, plums, or nectarines); pitted and halved
Cooking oil spray
4 tablespoons unsalted butter
1 cup all-purpose flour
1 cup sugar
1 ½ teaspoons baking powder
1/8 teaspoon kosher salt
1 cup buttermilk
1 cup blueberries, blackberries, or raspberries
DIRECTIONS:
Preheat a grill to medium-high.
Cover both sides of stone fruits with cooking spray; place on grill, cut-side down, cover, and cook until charred and softened, 4 to 5 minutes per side.
Put the butter in a 10- to 12-inch cast-iron skillet and place it on the grill with the fruit to melt the butter.
Whisk flour, sugar, baking powder, and salt in a medium bowl until well combined. Add buttermilk and whisk until combined.
When the fruit is done, transfer to a cutting board and cut the halves into slices.
Once butter is melted, pour batter over the melted butter; do not mix. Scatter the grilled fruit and berries over the batter; do not mix it in.
Cover with foil and grill until the juices are bubbling and the top is golden, about 45 minutes. Let cool for 5 minutes before serving.