Here's a Recipe for Brisket Burgers With Latke Buns. L'chaim!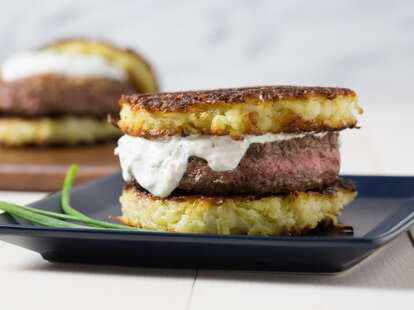 Cole Saladino/Thrillist
Cole Saladino/Thrillist
For a totally nontraditional take on a Hanukkah dinner this year, turn your brisket into juicy, tender burgers and use crispy home-cooked latkes as the buns. Top it all off with a tangy horseradish sour cream sauce -- so long as you're not keeping kosher, of course.
Brisket Burgers With Latke Buns Recipe
Total Time: 45 minutes
Yield: 4
INGREDIENTS:
2 pounds Yukon Gold potatoes
2 medium yellow onions
2 eggs, lightly beaten
¼ cup all-purpose flour
1 tablespoon kosher salt
Vegetable oil, for frying
1 ½ pounds beef brisket, freshly ground
Kosher salt and freshly ground black pepper, to taste
¾ cup sour cream
¼ cup prepared horseradish
3 tablespoons chopped fresh chives
2 teaspoons fresh lemon juice
DIRECTIONS:
Using a food processor or a box grater, coarsely shred the potatoes and onions. Transfer them to a fine-mesh colander and squeeze all the liquid out. In a large bowl, mix the potatoes and onions with eggs, flour, and salt.
Pour ¼ inch oil into a large cast-iron skillet over medium-high heat. Once oil shimmers, use an ice cream scoop to scoop 4 mounds of the potato mixture into the skillet, pressing lightly with a spatula to flatten them into discs. Cook until browned on both sides, about 5 to 8 minutes. Transfer latkes to paper towels and repeat with remaining potato mixture.
Form meat into 4 ½-inch-thick patties and season all sides with salt and pepper. When done cooking latkes, drain grease out of the skillet and wipe clean. Turn the heat up to high and place patties in skillet. Cook until the tops start bleeding, about 3 minutes, flip and cook the other sides for 2 to 3 minutes for a medium-rare burger.
Let the patties rest on a cutting board or plate while you make the sauce. Combine all ingredients in a small bowl and whisk until well blended.
Place each patty on a latke, pour a generous dollop of sauce over them, and top with remaining latkes.  
Sign up here for our daily Thrillist email, and get your fix of the best in food/drink/fun.
Perry Santanachote is Thrillist's recipes editor and will be eating these burgers for eight days straight. Happy Hanukkah! Follow her at @perrysant.