Homemade Churro Dogs Have Rendered Corn Dogs Obsolete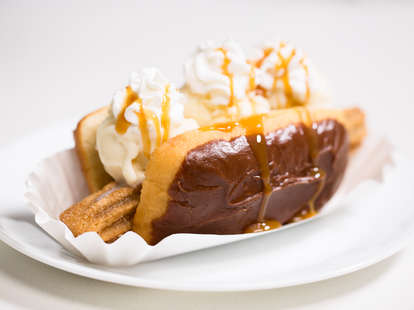 Making your own churro dogs not only allows you to indulge in the privacy of your own air-conditioned, Jumbotron-less home, but you also get to enjoy the best part of a Diamondbacks game without actually having to watch a Diamondbacks game.
Those of you who don't follow stadium-food trends may not realize that such a thing even exists. This spring, the concession stand at Chase Field debuted a brand-new confectionary that features a churro nestled inside a glazed long-john donut, and topped with a fro-yo sundae. Naturally, I had to get my hands on one. But since I don't live in Arizona, I did the next best thing: moved to Arizona made them my damn self.
Churro Dogs Recipe
Total Time: 3 hours
Yield: 8
INGREDIENTS:
1 (1/4-ounce) package active dry yeast
2 tablespoons sugar, divided
2 tablespoons vegetable shortening
1/2 teaspoon kosher salt
1/8 teaspoon freshly grated nutmeg
1/4 cup evaporated milk
1 egg, lightly beaten
2 ½ cups all-purpose flour, plus more for dusting
2 quarts vegetable oil
2 ounces semisweet chocolate chips
1 cup confectioner's sugar
1 teaspoon vanilla extract
1/4 teaspoon kosher salt
2 tablespoons milk
2 tablespoons unsalted butter
1/2 cup plus 1 ½ tablespoons sugar, divided
1 ½ teaspoons ground cinnamon
1/2 teaspoon salt
2 tablespoons vegetable oil
1 cup all-purpose flour
1 pint vanilla frozen yogurt
Whipped cream
Caramel sundae sauce
Chocolate sundae sauce
DIRECTIONS:
Combine yeast, 1 teaspoon sugar, and 1/4 cup warm water heated to 110° in a liquid measuring cup; let sit until foamy, 8-10 minutes.
Add remaining 1 tablespoon and 2 teaspoons sugar, shortening, salt, and 1/4 cup boiling water to the bowl of a stand mixer fitted with a dough hook. Mix until shortening is melted. Add yeast mixture, nutmeg, milk, and egg. With motor running, slowly add flour and beat until smooth.
Transfer to a lightly floured surface and knead until elastic. Let dough rest for 10 minutes.
Roll dough into an 8-inch square about 1-inch thick; cut into 4 strips, and cut each strip in half crosswise. Transfer to parchment-lined baking sheets, spaced 2 inches apart; cover loosely with plastic wrap and set in a warm place until doubled in size, about 1½ hours.
Heat oil to 350°F in a deep fryer or large pot fitted with an oil thermometer. Using scissors, cut the donuts out of the parchment paper, leaving about 1 inch of paper around the sides of each donut (the paper makes it easier to transfer them to hot oil). Working in batches, place donuts in oil; use tongs to peel off and discard paper. Cook, flipping once, until golden, 2-3 minutes. Transfer to a wire rack to cool.
To make the glaze, mix chocolate, sugar, vanilla, and salt in a medium bowl; set aside.
Bring milk and butter to a boil in small saucepan or in the microwave. Pour over chocolate and let sit for 2 minutes without stirring. Whisk until smooth and dip the tops of donuts into glaze; return to rack until set.
For the churros, combine 1/2 cup sugar with cinnamon in a shallow dish. Set aside. 
In a small saucepan over medium heat, whisk together 1 cup water, 1 ½ tablespoons sugar, salt, and vegetable oil. Bring the mixture to a boil and immediately remove from heat. Stir in the flour, mixing until it forms a ball.
Turn up the heat on the fryer until the oil temperature reaches 375ºF.
Transfer dough to a pastry bag fitted with a large, open-star tip (at least 1/2-inch wide). Pipe 6 inches of dough over the oil then cut it with scissors so it releases into the oil. If you don't have a pastry bag or decorating tips, just roll the dough into logs with your hands. They won't have that churro frill, but will actually look more like hot dogs. Fry 3-4 churros at a time, until they're golden. Transfer to the wire rack to drain for 2 minutes, then roll them in the cinnamon-sugar mixture.
To assemble churro dogs, cut donuts lengthwise along one side, keeping the other side attached. Gently tuck churros inside. Top each with 3 tablespoons frozen yogurt, whipped cream, and a drizzle of syrups.