So your culinary competence has moved beyond "unwrap, microwave, and eat." Does that make you special? Your mom thinks so! Does that make you fancy? You're not fooling anyone.
To reconcile my own half-hearted desire to act like an adult with my need to stuff my face with Hot Pockets, I created my own homemade version. Thanks to store-bought frozen puff pastry, these are easier than they look, and they freeze just like the original version, so they're equally reliable for late-night emergencies. I filled mine with pepperoni, but ham and cheese or broccoli and cheddar would also feel right at home.
Recommended Video
Timothy DeLaGhetto and David So Light Up Houston's Hops n' Hot Sauce Festival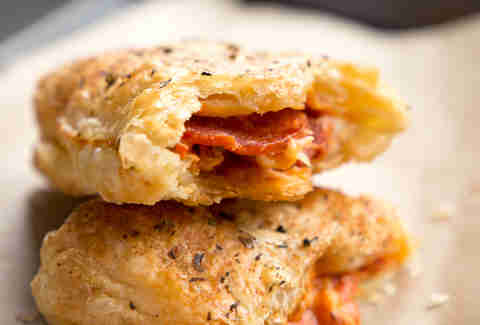 Pepperoni Pizza Hot Pockets Recipe
Ingredients:
I box frozen Pepperidge Farm puff pastry, thawed
3 ounces sliced pepperoni
1 cup (3 ounces) grated mozzarella cheese
½ cup pizza sauce
¾ teaspoon cornstarch
1 egg, lightly beaten
1 teaspoon Italian seasoning
½ teaspoon garlic powder
Directions:
Unwrap one sheet of puff pastry on a clean work surface. Using a pizza cutter or knife, cut the pastry lengthwise into 3 equal strips (follow the seams as a guide). Cut each strip in half crosswise for a total of 6 equal-sized rectangles. Transfer the rectangles to a parchment-lined baking sheet and repeat with the other pastry sheet.
Combine pepperoni, cheese, pizza sauce, and cornstarch in a medium bowl. Mound 3 tablespoons of the pizza mixture onto 6 rectangles, leaving a ½-inch space along the edges. Brush the edges with beaten egg and top with the rest of the rectangles. Gently press the edges of each pocket to adhere.
Cut small diagonal slits at 1-inch intervals along top of pastries. Brush top and sides of pastry with beaten egg. Sprinkle Italian seasoning and garlic powder on top. Transfer the baking sheet to the freezer for 15 to 20 minutes before baking.
Preheat oven to 425°.
Bake pastries until puffed and light brown, 15 to 20 minutes. Remove from oven and let cool slightly before serving.
To freeze the pockets, allow them to cool completely. Freeze in a single layer on a baking sheet, then transfer to an airtight bag and return to the freezer. To reheat, cover in aluminum foil and warm in a 350°F oven, or cook in the microwave for 3 minutes.

Sign up here for our daily Thrillist email, and get your fix of the best in food/drink/fun.