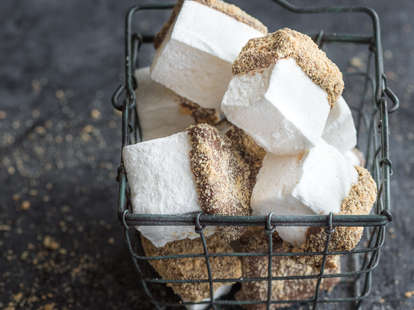 Kailley Lindman/Thrillist
No campfire? No problem. I've got the secret to enjoying all the flavors of classic s'mores in bite-size form -- no firewood necessary. Each s'mores bite features a made-from-scratch marshmallow dunked in chocolate coating and enrobed in graham cracker crumbs. If you're craving that extra-smoky flavor, lightly toast the marshmallows with a brulee torch until golden (or burnt, if that's your style).
And for more of my recipes -- like these Ritz cracker puppy chow cookies -- check out my website or follow me on Instagram (@kailleyskitchen).
S'mores Marshmallow Bites
Total Time: 8<span> hours, 30 minutes (30 minutes active)
Yield: 20 large marshmallow bites
INGREDIENTS:
3 packages unflavored gelatin
1 cup cold water
1 ½ cups granulated sugar
1 cup light corn syrup
¼ teaspoon kosher salt
1 ½ tablespoons pure vanilla extract
Powdered sugar
4 ounces chocolate candy melts or almond bark
½ cup finely crushed graham crackers
DIRECTIONS:
Add gelatin and ½ cup water to the bowl of a stand mixer fitted with a whisk attachment and let dissolve.
While gelatin is dissolving, combine sugar, corn syrup, salt, and remaining ½ cup water in a small saucepan and cook over medium heat until the sugar dissolves.
Turn heat up to high and cook until syrup reaches 240 degrees F on a candy thermometer, then remove from heat.
With stand mixer on low speed, slowly pour the syrup into the dissolved gelatin.
Turn speed up to high and whip until thick, 5-7 minutes.
Turn speed down to low, add vanilla extract, and mix just until fully incorporated.
Use a sieve to thoroughly coat the bottom of an 8" x 12" ceramic baking dish with powdered sugar.
Pour the marshmallow mixture into the pan, smooth until even, and dust liberally with more powdered sugar.
Let sit for 8 hours or overnight until dried out and no longer sticky.
Run a knife along the edges of the dish to loosen any sticky areas.
Turn marshmallows out onto a cutting board and cut into squares.
Dust with more powdered sugar.
*Optional step: If you have a brulee torch at your disposal, lightly torch marshmallows until golden.
Melt chocolate candy melts in a small microwave-safe bowl in 30-second increments until fully melted, stirring well in between each increment.
Line a baking sheet with parchment paper.
Dip a marshmallow into the melted chocolate, let excess drip off, and then coat in graham cracker crumbs and place on prepared baking sheet so that coating can harden; repeat with remaining marshmallows.
Sign up here for our daily Thrillist email, and get your fix of the best in food/drink/fun.
Kailley Lindman is a contributing recipe developer and writer for Thrillist, as well as a freelance food photographer, food blogger at KailleysKitchen.com, and recovering vegetarian. Follow her at @KailleysKitchen.