Homemade Mozzarella Sticks Use Tater Tots for Breading
Remember when you were a kid and you came home from school and your mom would offer you either greasy tater tots or a string cheese and you'd have to choose just one because she was a reasonable woman who didn't believe all calories were equal? Well, mom's not around now and you pay for a gym membership that you never use so there's absolutely nothing stopping you from coating a bunch of cheese sticks in crushed-up tots. Eat them totzarella sticks!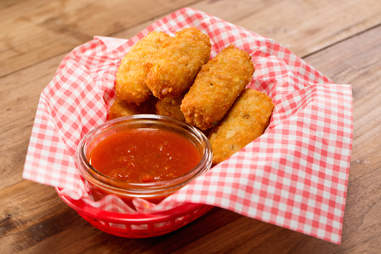 Cole Saladino/Thrillist
Tater Tot-Crusted Mozzarella Sticks Recipe
Total Time: 25 minutes, plus freezing time
Yield: 24 sticks
INGREDIENTS:
1 pound frozen tater tots, thawed
1 cup grated Parmesan
1 teaspoon salt
12 mozzarella string-cheese sticks, halved crosswise
½ cup all-purpose flour
4 large eggs, beaten
2 quarts vegetable oil
½ cup marinara sauce, for serving
DIRECTIONS:
Break up tater tots in a large bowl with a wooden spoon. Stir in Parmesan and salt. Dip cheese sticks in flour to coat completely, dredge in egg, flour again, then tater tot mixture. Pat to adhere and coat completely. Place the cheese sticks on a baking sheet. Freeze for at least 2 hours.
Heat oil in a deep fryer or large frying pan over medium heat to 350℉. Working in batches, fry the cheese sticks until golden brown, about 2 to 3 minutes. Transfer to a paper-towel-lined plate to drain.
Serve hot with marinara sauce.