Now You Can Make Taco Bell's Quesalupa Right at Home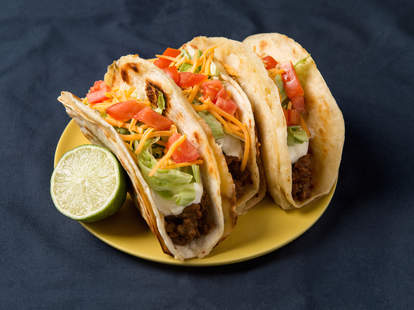 Taco Bell was right: you should never have to choose between a cheesy quesadilla and a cheesy taco when you can have both at the same time. Yes, the Tex-Mex chain was the genius behind the mighty Quesalupa, but trust me when I say that you can build it just as good at home.
Cole Saladino/Thrillist
Homemade Quesalupa Recipe
Total Time: 35 minutes
Yield: 8
INGREDIENTS:
1 pound ground beef
1 envelope taco seasoning
16 (6-inch) flour tortillas
1 pound (4 cups) shredded pepper Jack cheese
8 ounces reduced-fat sour cream
½ head iceberg lettuce, chopped
½ cup shredded cheddar cheese
2 tomatoes, diced
DIRECTIONS:
In a large skillet over medium-high heat, cook ground beef until browned, about 8-10 minutes. Drain excess grease, add taco seasoning and ⅔ cup water; simmer for 2-3 minutes, until thick. Transfer beef to a bowl; set aside.
Wipe skillet clean with a paper towel and return to the stove over medium-low heat. Place 1 tortilla in skillet, spread ½ cup pepper Jack evenly over it, cover with another tortilla. Cook for 2-3 minutes, until bottom tortilla is golden and cheese is melted. Flip quesadilla and cook the other side for 1-2 minutes. Transfer to a plate and fold in half, like a taco shell. Repeat with the remaining tortillas. NOTE: This process will go faster if you make multiple at the same time with extra skillets or a griddle.
Fill each taco shell with beef, sour cream, lettuce, cheddar, and tomatoes. Serve immediately.
Cole Saladino/Thrillist