Most ramen restaurants refuse to-go orders because those steaming-hot bowls need to be slurped down quickly, lest the noodles get bloated and soggy. It's a real bummer when all you want to do is eat ramen in the comfort of your flannel-lined loungewear without having to brave the stupid-frigid weather. 
In the past, you'd settle for dried noodles in a Styrofoam cup with broth made from a packet. But now, thanks to these 11 recipes, you have the know-how to make your own real ramen. Fresh-cooked noodles, warm flavorful broth, chashu pork, and marinated eggs are only a few clicks away.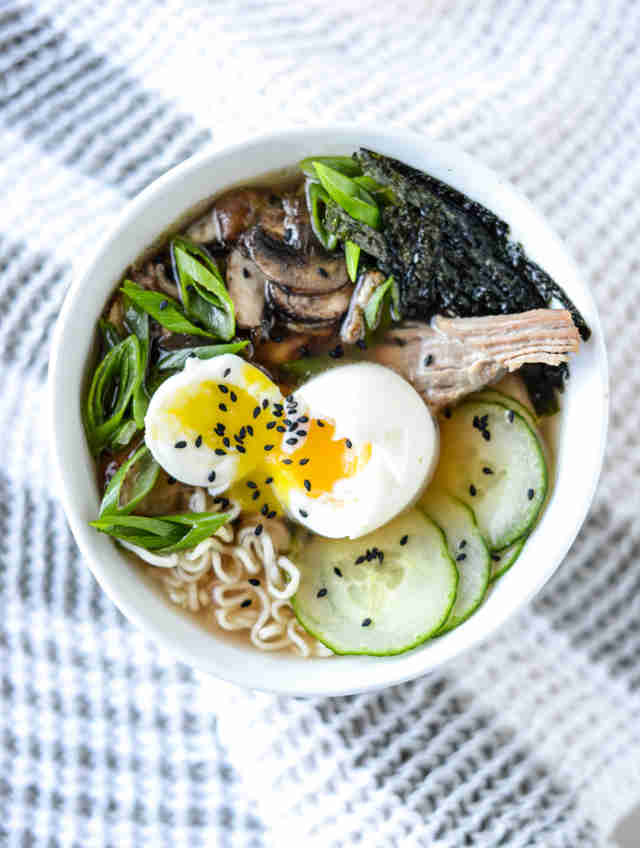 This meal comes together quick if you've already got pulled-pork leftovers in the fridge. Recipe here.
Key ingredients:
Pulled pork
Shiitake mushrooms
Chicken stock
Hoisin sauce
Dried ramen noodles
Not an easy one, but the best recipes usually aren't. This one calls for pig trotters, chicken feet, and an excess of pork fat -- so you know it's a winner! If you're up for making a truly authentic bowl, start here.
Key ingredients:
Fresh ramen noodles
Pig trotters
Chicken feet
Ginger
Pork belly chashu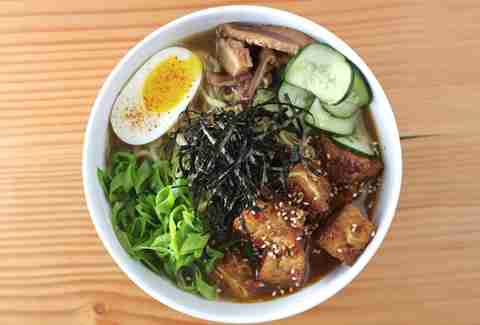 This vegetarian recipe was developed by an avid meat eater, who calls it "a damn tasty bowl of vegetable noodle water." But it's so much more. Check it out here.
Key ingredients:
Kombu seaweed
Onions
Leeks
Parsnip
Popcorn
The finest Japanese ramen takes hours to make. This simpler version lets the slow cooker do most of the work, but still tastes delicious. The recipe's here.
Key ingredients:
Boneless pork shoulder
Chicken broth
Cremini mushrooms
Fresh ramen noodles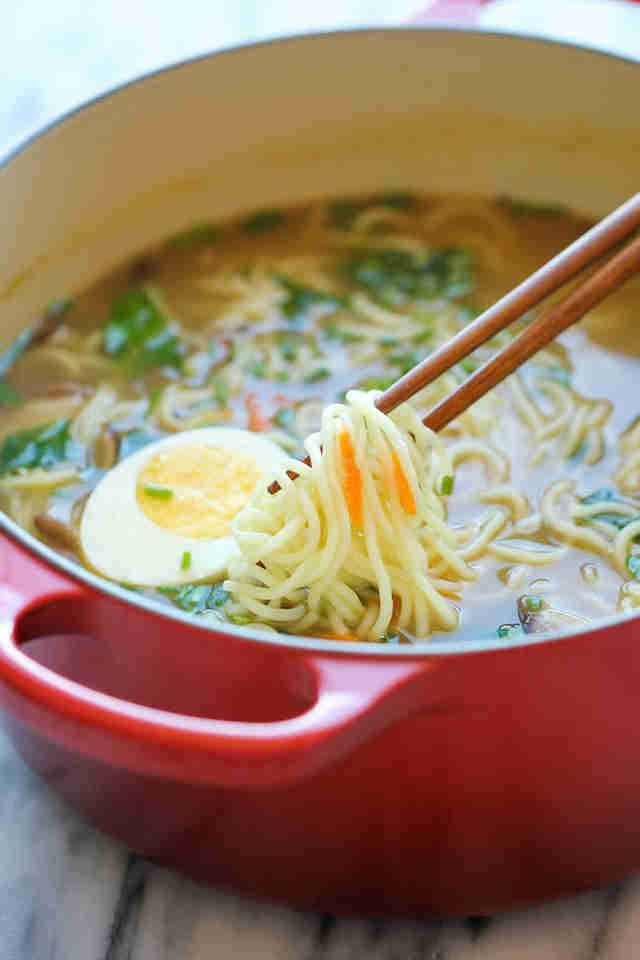 This one's for the lazy man who still wants something better than an instant packet. Half an hour is all it takes. Recipe here.
Key ingredients:
Sesame oil
Ginger
Chicken broth
Shiitake mushrooms
Yaki soba noodles
If you want to be really ambitious, make your own noodles, too. Baking baking (that is not a typo!) soda turns it into alkaline salt, which gives ramen noodles their signature golden hue and chewiness. Everything you need to know is right here.
Key ingredients:
All-purpose flour
Baking soda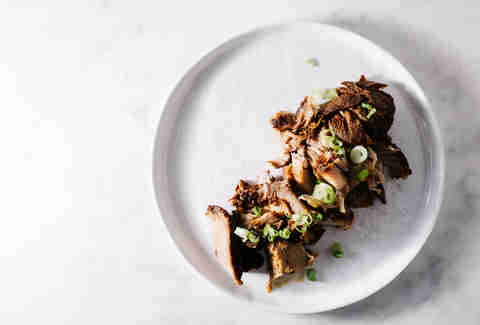 Chashu pork is the star of the ramen bowl. Take the necessary steps to make it melt-in-your-mouth tender. Learn how here.
Key ingredients:
Pork shoulder
Soy sauce
Mirin
Sake
Ginger
Whip up this quick marinade if you don't have leftover chashu broth to soak your ramen eggs in.
Key ingredients:
Eggs
Soy sauce
Mirin
Sake
Sugar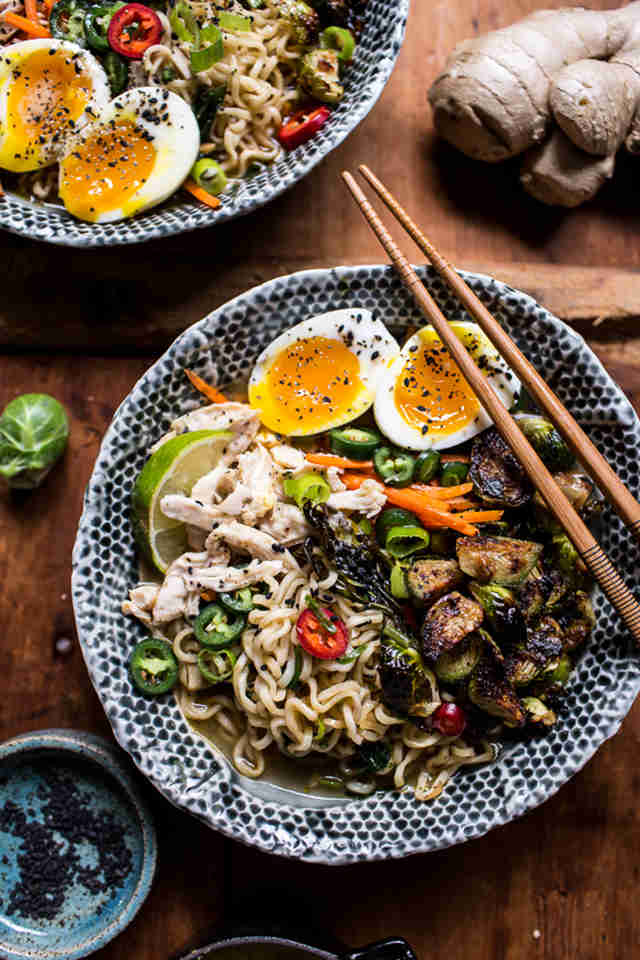 This baby takes only 30 minutes to make, and it involves ginger butter. Ginger butter, guys. Right this way.
Key ingredients:
Chicken
Brussels sprouts
Shiitake mushrooms
Dried ramen noodles
White miso
Bone broth takes hours, but this miso-based soup is ready in 15 minutes. Recipe here.
Key ingredients:
Miso
Ground pork
Chili bean paste
Chicken broth
Fresh ramen noodles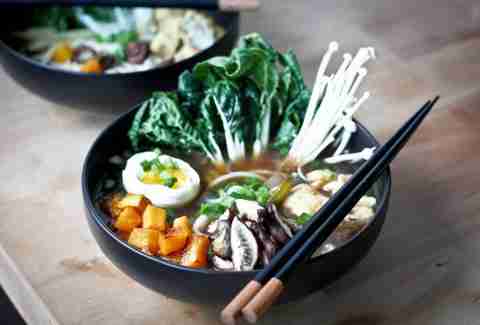 Even without meat, this broth oozes of umami -- thanks to the stovetop-smoked shiitakes. Full recipe here.
Key ingredients:
Dried shiitake mushrooms
Kombu seaweed
Mirin
Butternut squash
Fresh ramen noodles

Sign up here for our daily Thrillist email, and get your fix of the best in food/drink/fun.
Perry Santanachote is Thrillist's recipes editor. She likes her ramen with chili oil, corn, and extra pork belly. Follow her at @perrysant.