The Hot Dog Grilled Cheese Is a New American Classic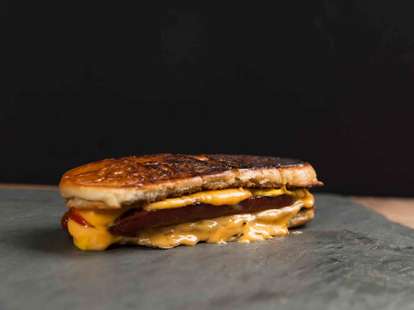 Drew Swantak/Thrillist
Drew Swantak/Thrillist
Like every American girl, I love hot dogs. What I don't love, though, are the buns. They inevitably turn into a mushy paste that isn't worthy of that summertime combo of salty meat, ketchup, mustard, and relish.
Because baseball fans (who happily let ketchup drip down their knock-off jerseys) and riverside grillers (who brave mosquitos for a little taste of summer) deserve better, I found a solution: the OG grilled cheese. By coating the bun's outside in butter and grilling it to a golden, crunchy brown, the bun transforms into a worthy holder of my favorite mystery meat. And once a slice of American is added, well, this is the only hot dog I'll be making until Labor Day.
Hot Dog Grilled Cheese Recipe
Total Time: 8 minutes
Yield: 1 sandwich
INGREDIENTS:
1 tablespoon butter, softened
1 hot dog bun
2 slices American cheese, cheddar, or a mix of both
1 hot dog, split in half lengthwise
Condiments of choice
DIRECTIONS:
Heat a nonstick skillet over medium-low. Place the split hot dog on one side. Split the bun and butter it evenly on both sides. Place it on the other end of the skillet, cut side facing down. Flatten it slightly with a spatula and cook until golden, about 2 minutes.
Flip bun and place cheeses on the top. Transfer the hot dog to one side of the bun.
Remove from heat when cheeses melt. Top hot dog with ketchup, mustard, or whatever you like. Close the bun and enjoy!