Like choosing "Wonderwall" at karaoke night and organizing party brunches every Sunday morning at places with too-loud DJs encouraging dancing amidst the waffles, some things were meant to be retired at college graduation. Boozy watermelons are not one of those. Now that you're an adult who owns a halfway decent kitchen knife and knows to buy a funnel, you can actually make these vodka-filled melons without losing half the booze to your dorm carpet. We recommend them for summer barbecues, but three slices will help you hit the proper nasal vocal range to finally nail that Oasis impression.
Cut a hole
Use a small knife to cut a 1-inch hole out of the side of a medium seedless watermelon.
Make some room
Dig into the hole with the knife to loosen the flesh and create space for the vodka to flow into.
Add vodka
Insert a funnel into the hole and slowly pour 1 1/2 cups of vodka into the melon. Refrigerate for at least 2 hours (or overnight).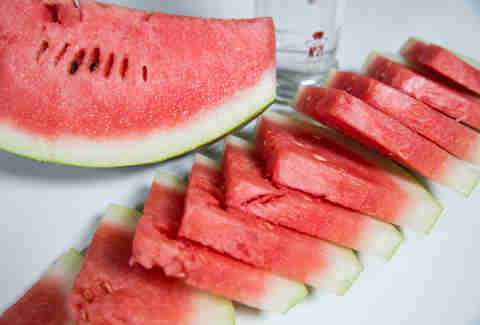 Cut it up
Slice the melon into wedges and serve cold.
Sign up here for our daily Thrillist email, and get your fix of the best in food/drink/fun.