How to Make Pasta Sauce From Scratch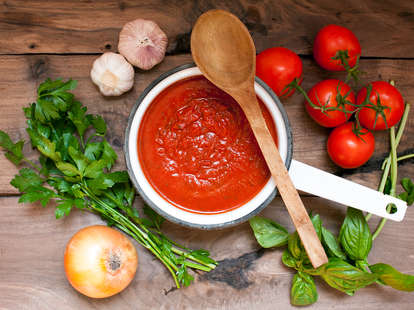 Perry Santanachote/Thrillist
There's nothing wrong with using Prego in a pinch, but making a batch of pasta sauce from fresh tomatoes is something everyone should do at least once a year. Specifically, you should tackle it in the summer when you can pretend you still get vacation, play hooky from work, and spend the time making this before playing in the sprinkler all day while clutching an ice pop. But also because tomatoes are at their sweetest and juiciest then.
You'll taste the difference, and everyone will freak the hell out, because you just made tomato sauce from scratch.
Tomato Sauce Recipe
Total Time: 1 hour, 20 minutes
Yield: Enough for 1 pound of pasta
INGREDIENTS:
2 pounds medium tomatoes (about 10-12), peeled and cut into large chunks [instructions below]
3 tablespoons extra-virgin olive oil
3 tablespoons unsalted butter
1 large yellow onion, peeled and cut in half
3 medium cloves garlic, minced
2 tablespoons minced fresh basil
2 tablespoons minced Italian parsley
Kosher salt
DIRECTIONS:
Heat olive oil and butter in a large saucepan over medium heat. Add onion, cut sides down, and garlic; cook, stirring occasionally, until softened but not browned, about 8 minutes.
Add tomatoes (including all their juices) and simmer, stirring occasionally, until the liquid has evaporated and the sauce thickens, about 40 to 45 minutes.
Remove from heat, scoop out onion and discard. Stir in basil and parsley and let steep for 5 minutes.
Using an immersion blender, pulse a few times to break up large chunks of tomato. Process it longer for a smoother sauce. You can also do this in batches with a stand blender.
Season to taste with salt if necessary.
How to peel tomatoes
Bring a large pot of water to a boil over high heat. Prep an ice bath, which is a large mixing bowl filled with cold water and ice.
Using a paring knife, slice a shallow X into the bottom of each tomato. Just nick the skin and avoid the flesh as much as possible.
Submerge the tomatoes in the hot water until the skin begins to wrinkle and pull away where you cut them, about 30 seconds.
With a slotted spoon, transfer tomatoes to the ice bath for 5 minutes.
Gently peel the tomatoes; the skin should slide right off.

Sign up here for our daily Thrillist email, and get your fix of the best in food/drink/fun.
Perry Santanachote is Thrillist's recipes editor and spaghetti is her weakness.