Breakfast Sandwich Waffles, so You Don't Have to Choose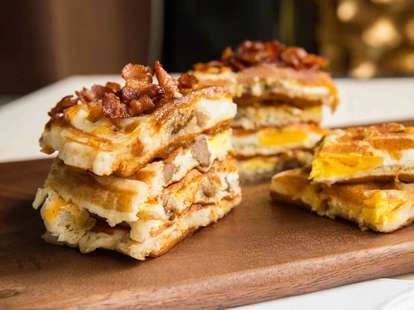 Cole Saladino/Thrillist
Cole Saladino/Thrillist
When you've just awoken from spending 12 straight hours drinking handcrafted cocktails at the local TGI Fridays, it's hard to make decisions, especially when they concern the choice between a savory breakfast sandwich or a sweet, syrupy waffle. But worry not! I have the solution right here with my breakfast sandwich waffles. The eggs gets cracked right in the iron so that yolk is still runny when you fork 'em.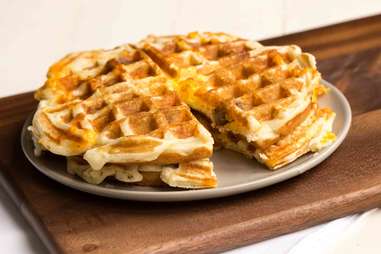 Breakfast Sandwich Waffles Recipe
Total Time: 30 minutes
Yield: 4
INGREDIENTS:
2 cups Bisquick mix
1 ⅓ cups milk
5 eggs
2 tablespoons vegetable oil
1 pound cooked and crumbled breakfast sausage
1 cup shredded cheddar
Maple syrup, for serving
Bacon, for garnish (optional)
DIRECTIONS:
Heat waffle iron; grease with vegetable oil or shortening.
Stir Bisquick, milk, 1 egg, and oil until blended. Pour ¼ cup batter onto hot waffle iron. Top with a handful of sausage and cheese. Crack an egg right over the center and top with another ¼ cup batter.
Close the lid and cook until it stops steaming, about 5 minutes.
Remove waffle to a wire rack while you make the rest.
Serve warm with maple syrup and crumbled bacon on top.