How to Make Caramelized Onions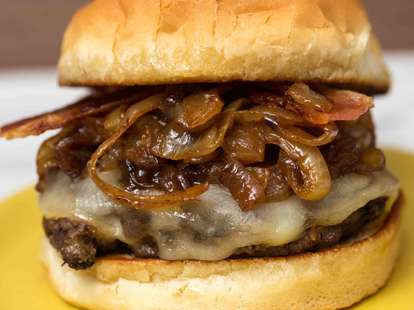 Cole Saladino/Thrillist
Cole Saladino/Thrillist
Caramelizing onions is a scientific process. There's complicated stuff that goes on, like Maillard reactions and acid conversions, but all you really need to know is that by cooking them low and slow, moisture comes out and the onions' natural sugars take on a delightful nutty flavor. While it's nothing short of alchemy, it only takes 40 minutes and lots of stirring, so it's infinitely easier than your ninth grade chemistry experiment where you burned the sugar. Once you have a batch, top your favorite burger for a rich boost of flavor or add them to the mix in green salad or tacos when you want an extra layer of subtle sweetness.
Cut the onions
Trim the tip and root from three or four yellow onions, then cut them in half and remove the skins. Slice the onions from root to stem into 1/8-inch slices. You can also dice them.
Melt the butter
Place a large skillet over medium heat and melt two tablespoons of unsalted butter. Do not let it brown.
Sauté the onions
Add the onions to the pan and toss them gently until they're coated with butter. Stir them every 5 to 10 minutes.
After 10 minutes
The onions will soften and turn translucent in spots. They'll also start to release liquid.
After 20 minutes
At this point, the semi-cooked onions will get soft and start to break down. Some will start to caramelize, and browned bits will build up in the pan. If you notice burnt spots, though, turn down the heat.
After 30 minutes
The onions will be golden in color and start to become jammy. They'll still be releasing liquid, but the pan will brown up more.
After 40 minutes
Now they'll really start to caramelize! The color and the sweet, nutty smell will indicate that. They'll be soft, but not mushy.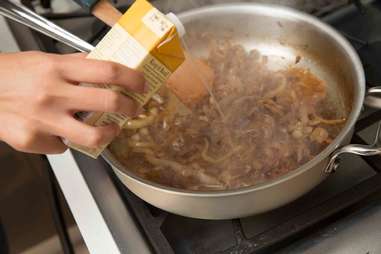 After 50 minutes
The onions will be darker, richer, and even more caramelized. Pour 1/4 cup broth, water, or wine into the pan, and as it simmers, scrape up the browned bits stuck to the bottom of the pan and stir them into the mixture.
Salt the onions
When all the broth is absorbed, add kosher salt, to taste.

Cool and store the onions
If you're not using the onions immediately, let them cool in the pan, then transfer to an airtight container. Keep them in the fridge for up to a week, or freeze them for up to six months.
Sign up here for our daily Thrillist email, and get your fix of the best in food/drink/fun.
Perry Santanachote is Thrillist's Recipes Editor and now has onion breath for days. Follow her at @perrysant.