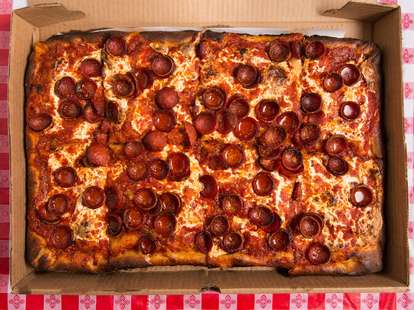 Cole Saladino/Thrillist
Cole Saladino/Thrillist
It was 1946 in Detroit. Buddy's, a former speakeasy turned legitimate tavern, was still suffering from the aftermath of World World II and needed a new way to draw in customers. Owner August "Gus" Guerra had an idea. He lined thick blue steel pans with his wife Anna's Sicilian pizza dough recipe, piled on pepperoni and Wisconsin brick cheese, baked, and then drizzled it all with red sauce. And thus, the thick, chewy fried cheese and tomato sauce-topped Detroit-style pizza was born.
Buddy's, which has since expanded to 11 locations, makes its famed pizza to this day and has a handful of competitors around town -- and across the country. Via 313 in Austin slings the saucy slices, as does Brooklyn-newcomer Emmy Squared. However, if you don't live in one of those cities, there are ways to make this seemingly new, yet fairly established style at home -- and it'll likely come out even better than certain American pizza chains that specialize in the stuff. But first!
Three defining components separate this deep-dish style from the rest:
1. Sicilian-style dough
New York's dough is chewy, Chicago's is "biscuity", and the Neapolitan style is ultra-thin and crispy. Detroit dough, however, most closely resembles Sicilian sfincione, a light and spongy focaccia of sorts.
2. Brick cheese bottom, tomato sauce on top
Detroit-style pizza makers load mild Wisconsin brick cheese directly onto the dough. This kind of cheese, which tastes similar to Havarti, has roughly double the amount of fat as mozzarella, so when it melts, a crunchy, buttery "frico" crust develops. Some places double-down on the fatty flavor by brushing their crusts with actual butter, but it's not required. The sauce then gets spooned over that delicious crust. Think of it as an inverted pizza.
3. Industrial pans
Born from repurposed industrial blue steel auto-factories in Detroit, the specialized seasoned pizza pan is responsible for the square (or now more rectangular) shape and the height and crispiness of the crust. Today Detroit-style pizza makers still swear by them. Find them here if you're interested in buying one of your own, though they're not necessary for my homemade version. More on that below.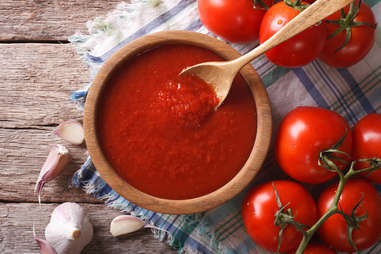 Here's how to make it at home:
You have two main options for homemade Detroit-style pizza. You can go all out -- make the dough from scratch, get Wisconsin brick cheese, and even order the special Detroit pan. Here's a recipe for that. OR, if you're anything like me (practical, maybe kind of lazy), you can follow these simple steps for a totally delicious Detroit-style analog.
1. Buy the dough
Honestly, making pizza dough is a pain in the ass. Most recipes for Detroit's dough require a minimum of two to three hours of preparation, plus baking time. Save yourself the time and aggravation by buying dough at a local pizzeria instead. It's important to note that unless you can request "Sicilian dough" you will most likely be working with a chewier dough than the traditional spongy Detroit kind.
2. Skip the specialized pan
You probably have enough clutter in your kitchen, so the last thing you need is another specialty item with limited use. Use a jelly roll baking pan instead. While the base sizes of these standard baking pans (13 x 9in) are roughly the same size as the Detroit pan (14 x 10in), the big difference here is the sides. The Detroit pan's sides are tall and get wider towards the top, while the baking sheet is only an inch high. As a result, the edges of the pizza will be shorter, but still crunchy and ridiculously tasty.
3. Have fun with the cheese
While Wisconsin brick cheese is fairly common throughout US grocery stores, why feel limited? All that really matters is the fat content. Cheddar in your fridge? Use it! If you want to get a little fancy, Gruyere and asiago also work particularly well. Blend in some mozzarella if you'd like, but not more than half of the total amount of cheese -- mozz has a much less fat and won't give your crust the desired texture when it melts.
4. Get creative with the toppings
Remember, you're making pizza so you can pretty much do whatever you want to it. Buddy's, for example, has a pizza with seasoned ground beef, smoked bacon, and blue cheese. Emmy Squared has one with chilis, chorizo, and crema. Since cheese is your base and not red sauce, you can think of toppings like you would a sandwich: meats, veggies, jams, crazy condiments... Basically feel free to clean out your fridge and get a bit zany.
While some Detroit locals might balk if you attempt to call your pizza "Detroit style," screw them! You still get to enjoy a fabulous frico crust topped to your liking, and made in less than half the time. Now onto the recipe!
"Detroit-Style" Margherita Pizza Recipe
INGREDIENTS:
12oz pizza dough, room temperature (you can pick this up at the supermarket or your local pizzeria)
12oz Cheddar, Asiago, Gruyere, and/or mozzarella Cheese
2-3 cups tomato sauce (here's a recipe!)
1 small handful of basil, washed, dried & gently torn or cut
DIRECTIONS:
If you are making your tomato sauce, now is a good time to do it otherwise heat up whatever you have.
Preheat your oven to 450 degrees.
Spray or lightly oil a baking sheet. Stretch pizza dough so it fits the the baking sheet. Be careful not to rip it. If you feel like tossing it around and flipping it, be our guest. It helps to have wet hands when stretching. Cover the sheet trays with some plastic wrap and allow to sit in a warm area for 30-40 minutes.
Grate the cheeses on the large holes of a box grater and mix them together.
Spread the cheese evenly and generously across the dough to the edges.
Bake the pizza for 15 to 20 minutes until golden brown, and the cheese begins to caramelize along the edges.
Once the pie is baked and out of the oven, transfer it to a large cutting board and let it rest for a minute, allowing the bubbly cheese to cool into the crust for four to six minutes.
Spoon over the tomato sauce, garnish with basil and cut. If you don't have a pizza cutter, kitchen scissors work just great. Enjoy!
Sign up here for our daily Thrillist email, and get your fix of the best in food/drink/fun.
Julianne Feder is a contributing writer for Thrillist. She is a native New Yorker and takes her pizza very seriously. Follow her @TheGastroNerd or watch her on YouTube to get more nerdy food insights and other cooking tips.