French press is one of the easiest, least-expensive ways to make great coffee. It produces a thicker, more robust brew than drip coffee, and you get a bonus arm workout pressing the plunger each morning. The drawback is that the style is prone to bitterness and oiliness. However, both are easy fixes once you know what you're doing, which means a coffee-house worthy cup of coffee can be yours every morning without the effort of talking to the condescending barista.
Recommended Video
This Shop Serves Over 10 Types of Bao
There are two things that muck up French press coffee: water that's too hot and badly ground coffee. Boiling-hot water scorches the grounds, making them bitter, while too much fine grit in the grounds makes the pressed coffee muddy with sediment and difficult to press.
Both elements are simple enough to fix. All you need to do is give your water a minute to cool before brewing, and invest in a burr grinder, which breaks beans into more evenly sizes bits. Or you could ask your coffee vendor to grind it coarse for you.
The instructions below are for a standard 32-ounce French press. It makes about four servings. If you're making more or less, keep in mind that each cup of water needs 2 tablespoons of coffee beans (pre-ground).
Grind the beans
Measure out ½ cup coffee beans. Grind the beans on the coarsest setting of a burr grinder.
The grounds
The coffee grounds should be rough and coarse, but still evenly sized, without a lot of fine grit. Pour the grounds into the French press.
Boil the water
Heat 4 cups of water to boiling, then let it cool off the heat for 1 minute.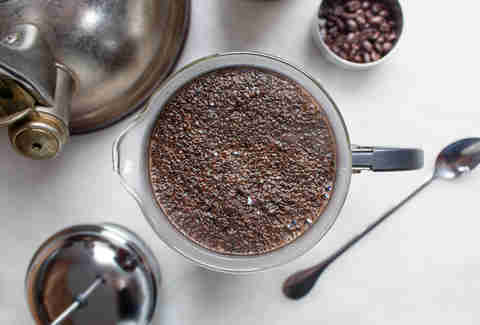 Brew the coffee
Pour the hot water into the French press.
Stir the coffee
Stir the brew vigorously with a long spoon.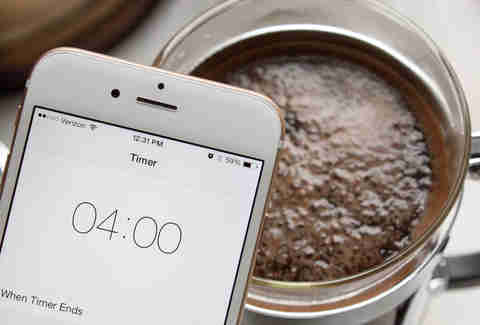 Steep it
Steep for 4 minutes for a full-bodied brew. You may need to adjust the steeping time to your preference.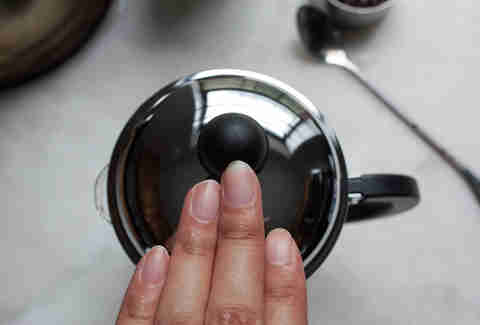 Press it
When time is up, gently and slowly press the plunger all the way to the bottom.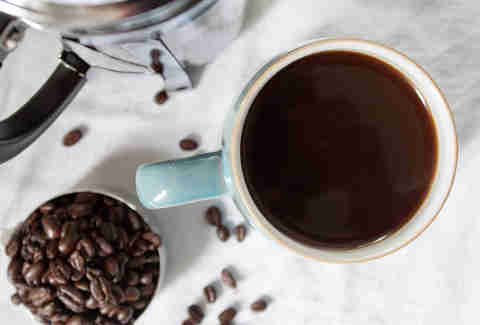 Pour it
Drink the coffee immediately. If you don't, transfer it into a thermal carafe to keep it hot.
Sign up here for our daily Thrillist email, and get your fix of the best in food/drink/fun.