Make These Fried Queso Sticks for Game Day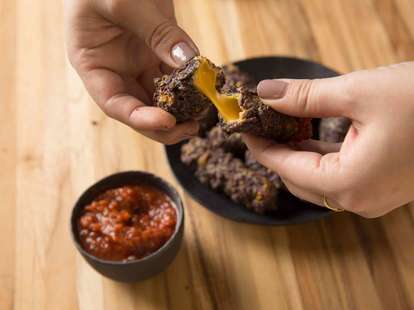 As I'm a Broncos fan, I was stressing hard when Peyton Manning went out of action in November. Then there was that loss to the Raiders. Morale was low and I knew my compadres would need some extra team spirit. Regular ole chips and guac wouldn't do -- not this Sunday. The only thing that would work would be something blue and orange... and fried.
Enter Velveeta sticks enrobed in crushed blue corn chips and fried to a crisp. With snacks like these, everybody wins. Except the Patriots, they did not win.
Fried Queso Sticks Recipe
Total Time: 30 minutes
Yield: 32
INGREDIENTS:
1-pound block Velveeta cheese
1 cup all-purpose flour
6 eggs, whisked
1 (9-ounce) bag blue tortilla chips, finely crushed
2 quarts vegetable oil
Salsa, for serving
DIRECTIONS:
Cut Velveeta into 2 ½-by-½-inch sticks.
Preheat oil to 350℉ in a deep fryer or heavy-bottomed pot fitted with an oil thermometer.
Place flour, eggs, and tortilla chip crumbs in 3 separate shallow bowls. Coat each cheese stick in flour, tap to remove excess, dip in eggs, and dredge in tortilla chips, pressing thoroughly to coat.
Fry in batches for 1 to 2 minutes, until crisp. Drain on paper towels. Serve immediately with salsa.