How to Make Perfect French Fries at Home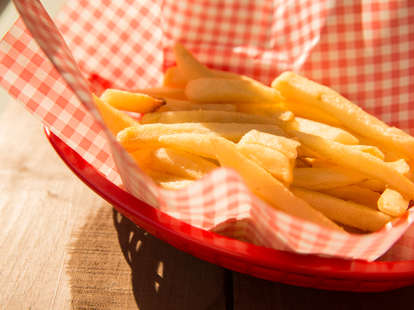 Drew Swantak/Thrillist
Drew Swantak/Thrillist
If you've ever tried making fries by just cutting up potatoes and plunging them into hot oil, you know that's a recipe for disappointment. And don't even get me started on limp oven fries.
But it's just a few extra steps to get fries that are perfectly crisp and golden on the outside, yet fluffy on the inside. Never again will you have to suffer the ultimate first-world problem of soft, soggy fries.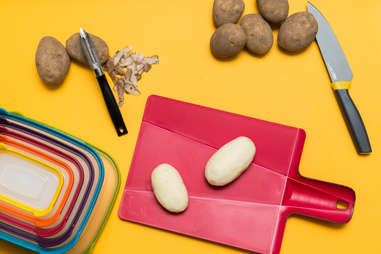 Peel potatoes
Get 2-3 pounds of Idaho russet potatoes. Peel and rinse them, then cut each potato lengthwise into four or five even slices, about 1/2-inch thick.
Cut into fries
Next, cut each of those slices into 1/2-inch sticks. Make them as uniform as possible.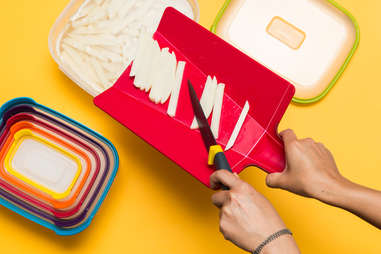 Soak them
Place the fries in a large container or bowl filled with cold water. Add a few tablespoons of salt for extra-salty fries.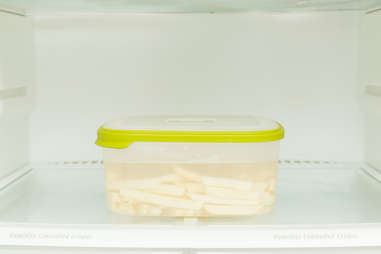 Chill them
Cover the container and refrigerate overnight. This essential step extracts starch from the potatoes so they can get nice and crispy.
Dry them
Drain out the water and spread the fries on baking sheets or cutting boards lined with paper towels. Blot with more paper towels to dry them really well.
Fry them
Heat several inches of refined peanut oil to 300℉ in a deep fryer or heavy pot with an attached thermometer. In three or four batches, fry the potatoes for 5 minutes per batch, or until they cook through and soften (but are not browned). This step gets you that nice, fluffy middle. Drain each batch on fresh paper towels.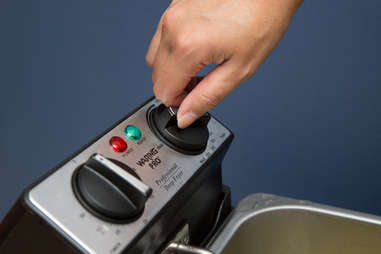 Fry them again
Once all the potatoes have been fried at 300℉, turn up the heat to 400℉. Fry the potatoes in batches again, cooking until golden and crisp this time, about 5 minutes.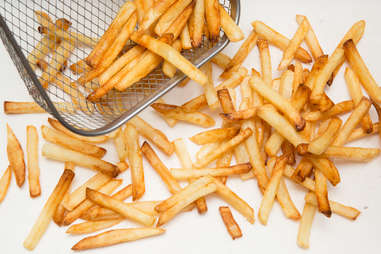 Salt them
Drain fries on fresh paper towels, sprinkle with sea salt, and serve hot!