No matter how fast the delivery guy can drive, takeout pizza will never taste as good as one straight out of the oven with the cheese still bubbling and the crust still puffy. "But, all that work," you say? The dough practically makes itself -- with only some minimal prep on your end -- so all you have to do is pick toppings and stop talking to yourself while you cook.
Pizza Dough Recipe
Total Time: 2 hours, 30 minutes
Yield: 2 (12-14 inch) round pizzas
Ingredients
1 cup lukewarm water (110℉)
2 teaspoons active dry yeast
1/8 teaspoon sugar
2 tablespoons olive oil
1 cup bread flour
2 cups all-purpose flour, plus more for dusting
1 ¼ teaspoons kosher salt
Directions
In a glass measuring cup, stir together warm water, yeast, and sugar. Let sit at room temperature for 10 minutes, until the yeast has bubbled and expanded. Then add olive oil.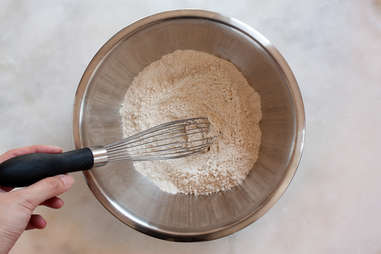 In a large mixing bowl, combine flours and salt.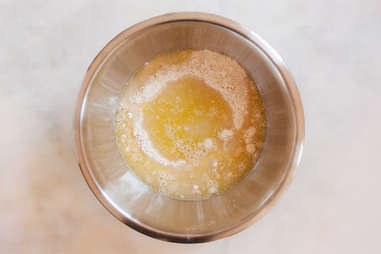 Pour the liquid into flour mixture.
Stir the mixture with your hands until just combined.
Lightly flour your work surface and knead the dough until it comes together into a ball, about 3 minutes.
Place dough in a large, lightly oiled bowl. Cover with plastic wrap and let rise in a warm spot until it doubles in size, about 1 ½ hours. You can also let it rise in the refrigerator overnight -- just let it come to room temperature again before you shape it the next day.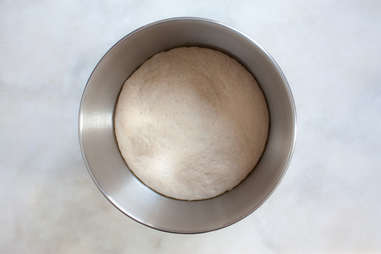 Once the dough has risen, turn it out onto a lightly floured surface and divide it into 2 equal pieces with a flour-dusted bench scraper or butter knife.
Shape each piece into a ball and place them at least 6 inches apart on a floured surface.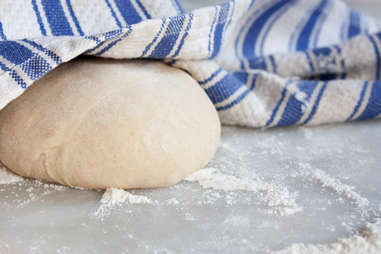 Cover each with a dish towel or plastic wrap and let them rest for 15 minutes. In the meantime, preheat the oven to 500°F. If you're using a pizza stone, place it on the lowest rack.

To shape the pizzas, place each dough ball on a heavily floured surface and use your fingertips to create a ridge 1 inch from the edge. This will be your crust.
Pick up the dough and place it over the backs of your hands.
Gently stretch the dough out with your thumbs and knuckles (remember, gravity is your friend). If the dough starts shrinking back before you get it wide enough, set it down, cover it with plastic wrap, and let it rest for 10-15 minutes. Repeat the stretch one more time, if necessary.
Place the dough in your greased pizza pan or floured pizza peel. Finish with sauce and toppings and bake in the oven for 10-12 minutes, until crust is golden and cheese is bubbling.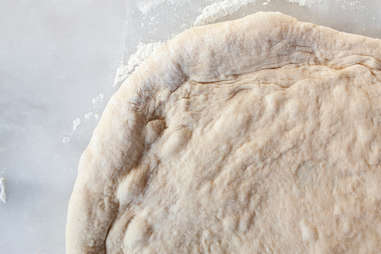 Sign up here for our daily Thrillist email and subscribe here for our YouTube channel to get your fix of the best in food/drink/fun.