How to Make Perfect Rice on the Stove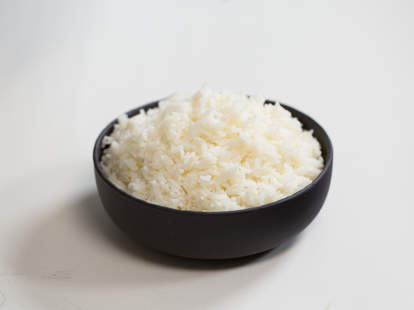 The only thing worse than dry, hard rice is wet, gummy rice. And the fourth season of Sliders. But thanks to my recipe for perfectly fluffy, tender rice (and the invention of Netflix), you'll never have to worry about any of those other things. 
This recipe yields three cups of cooked rice, but is simple enough to half, double, or triple as needed. Experiment with different rices (when cooking brown, increase the water by ¼ cup and the cooking time by 5-10 minutes) and oils, but just don't skip the rinse. This essential step reduces the starch in the rice so the grains can separate and cook more evenly, avoiding the aforementioned gumminess. As far as TV shows starring Jerry O'Connell go though, you're on your own.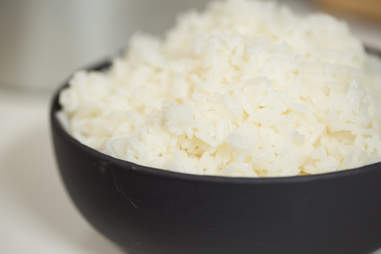 Drew Swantak/Thrillist
Stovetop Rice Recipe
Total Time: 20 minutes
Yield: 3 cups
INGREDIENTS:
½ teaspoon salt
1 cup long-grain jasmine rice
1 tablespoon butter
DIRECTIONS:
In a medium saucepan bring 1 ¾ cups water and salt to a full boil.
Put rice in a fine mesh strainer and rinse under cold running water until it runs clear.
Add rice and butter to the saucepan; return to a boil. Reduce the heat to low and cover with a tight-fitting lid. Cook for 15-18 minutes or until water is absorbed and rice is tender. Do not remove the lid during cooking; that steam is essential. A glass lid is helpful so you can keep an eye on the rice without lifting the lid.
Turn off heat and let the saucepan stand uninterrupted for 5 minutes. Uncover and fluff rice with a fork before serving.