Moist Maker sandwiches, Thanksgiving hand pies, casseroles, fritters -- there are uncountable ways to repurpose Thanksgiving leftovers. But one of the simplest, most delicious ways is to simply pop some of that stuffing into a waffle iron and top the waffles with a slice of good ol' canned cranberry jelly and a bit of crunchy turkey bacon. Admittedly I'm not usually a big proponent of the latter, but let's keep with the theme here, people.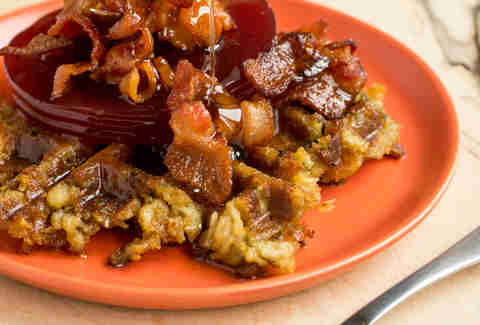 Ingredients:
4 strips turkey bacon, cut into 1-inch pieces
2 cups stuffing
1 (14-ounce) can cranberry jelly
Maple syrup, for serving
Directions:
Cook turkey bacon in a large skillet over medium-high heat until crisp. Transfer to a paper towel lined plate to drain; set aside.
Preheat waffle iron and lightly grease it with cooking spray.
Using an ice cream scoop or 1/2-cup measuring cup, place one serving of stuffing in the center of the waffle maker. Close lid and cook until crisp (until the beeper sounds). Remove waffle to cool on a wire rack while you waffle the rest of the stuffing.
Invert cranberry jelly out of the can and slice it crosswise into 1/4-inch circles.
Plate the waffles, top each one with a slice of cranberry jelly, 2 tablespoons turkey bacon, and a drizzle of maple syrup.