How to Make the Perfect Diner-Style Burger at Home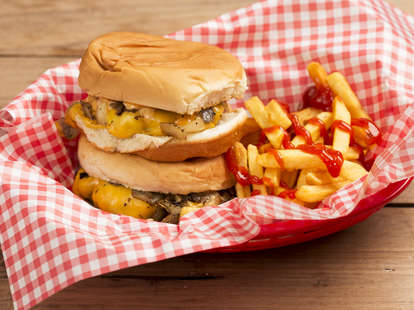 Drew Swantak/Thrillist
Drew Swantak/Thrillist
My editor is obsessed with burgers. Specifically the thin, griddled patties you'd find at old-school diners and burger stands. And so he spent many years perfecting his ideal diner-style burger recipe (with buttery, peppery caramelized onions and oozing American cheese) and unfairly kept it a secret, until I forced it out of him last week. So enjoy and, as he says: "please try not to ruin it with lettuce, tomato, or other frivolous condiments."
Coarsely chop 1 sweet onion. Melt 1 tablespoon of butter in a large cast-iron skillet over medium heat until nice and foamy.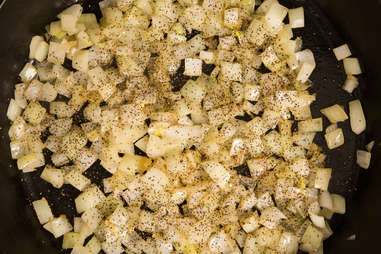 Add the onions, along with a healthy dose of black pepper. Cook the onions until done, about 15-18 minutes browned.
Mmm, these look done. Transfer to a bowl, cover, and set aside.
With an ice cream scoop, divide 1 pound of ground chuck into 4 loose balls. You're looking to get 4 ounces per burger. Season liberally with salt and pepper.
Add another tablespoon of butter to the skillet and turn the heat up to medium-high.
Place the balls of meat on the skillet and smash them down with a wide metal spatula. Ideally you want to smash them down only once so they seal and get that crust without losing much juice. Let cook for a couple of minutes until you see the top side appear to be almost bleeding.
Flip the patties. You should see some nice crusting on the top.
Place 1 slice of American cheese on top of each patty; cover until melted.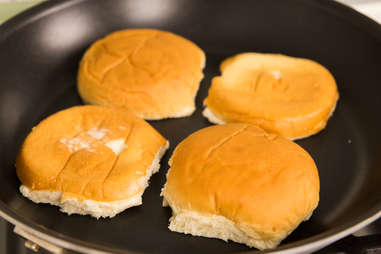 In another skillet, toast buttered hamburger buns (preferably the squishy unseeded kind) over medium-low heat.
Once cheese melts, turn off heat and add two heaping tablespoons of cooked onions on top of each patty. Press down with the spatula so they smush into the cheese.
Spread Thousand Island dressing on the bun tops.
Place patty on the bottom bun and cover with the top bun.
Do NOT taint the griddled burger goodness with lettuce or tomato.