How to Make Perfect Guacamole, Just in Time for Football Season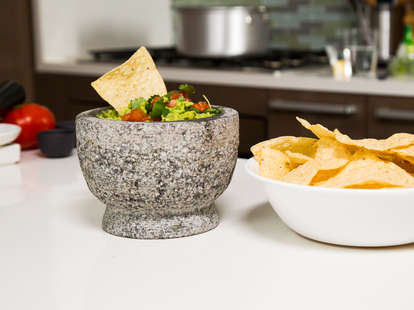 Tony Biancosino/Thrillist
Tony Biancosino/Thrillist
Just like reality television and violent sporting events, America is addicted to guacamole. And because you definitely busted out your best Ickey Shuffle when Chipotle revealed its recipe, it's probably a good idea if you enter this next football season armed with an even better version. Mine adds fiery serranos and just the right combo of tomatoes, garlic, and onion into the mix, so it's perfect to ease you back into a fall bender of football and the green stuff.
Guacamole Recipe
Total Time: 10 minutes
Yield: 2 cups
INGREDIENTS:
¼ cup chopped cilantro, divided
2 tablespoons minced white onion
1 tablespoon minced fresh serrano peppers, including seeds
½ teaspoon kosher salt
½ teaspoon minced garlic
2 ripe Mexican Hass avocados, halved and pitted
1 small tomato, finely chopped
1 tablespoon fresh lime juice
DIRECTIONS:
Mash half the cilantro, onion, serrano, salt, and garlic into a coarse paste with a pestle in a molcajete or mortar. You can also mince and mash the ingredients together on a cutting board with a large knife and transfer the paste to a bowl.
Scoop avocado flesh into the mortar. Add tomato, lime juice, and remaining cilantro; lightly mash the avocado with a fork until evenly combined with the other ingredients, but still chunky.
Serve with tortilla chips.