The Perfect Homemade Hummus Recipe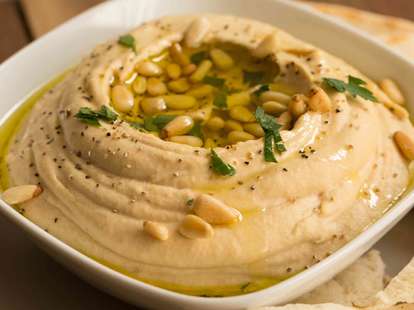 Cole Saladino/Thrillist
Cole Saladino/Thrillist
I love Sabra as much as the next guy, but hummus, like most other things, is better homemade. And no packaged chickpea puree can stand up next to my garlicky blend, anyway.
It only requires 10 minutes, and even fewer ingredients, which means you can spend your time picking out pita chips -- you'll need lots of them.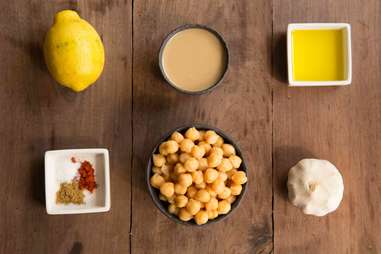 Hummus Recipe
Total Time: 10 minutes
Yield: 2 cups
INGREDIENTS:
1 (15-ounce) can of chickpeas
Juice of one large lemon
½ cup sesame tahini
2 tablespoons olive oil
2 garlic cloves, chopped
1 teaspoon kosher salt
⅛ teaspoon cumin
⅛ teaspoon smoked paprika
DIRECTIONS:
Drain the chickpeas and reserve ¼ cup of the liquid.
Put chickpeas, reserved liquid, and lemon juice in a food processor or blender and whirl until smooth. Add tahini, 1 tablespoon olive oil, garlic, salt, cumin, and paprika; blend again until smooth. Stop the machine a couple of times during blending to scrape down the sides to make sure everything gets incorporated.
Spoon the hummus into a serving dish, make a little crater in the middle, and drizzle remaining olive oil in it. Garnish with black pepper, olives, parsley, roasted pine nuts, or whatever you want. Hummus will keep in the refrigerator for up to four days.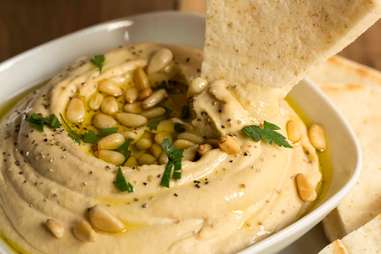 Sign up here for our daily Thrillist email, and get your fix of the best in food/drink/fun.
Perry Santanachote is Thrillist's recipes editor and likes her hummus best with pine nuts and carrot sticks. Show her your way at @perrysant.