How to Make a Perfect American Omelet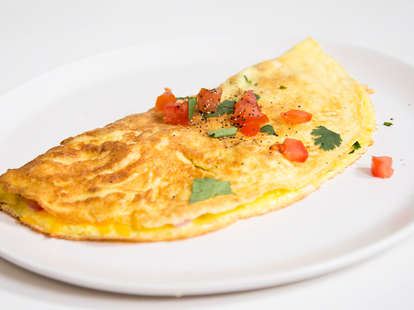 Tony Biancosino/Thrillist
Tony Biancosino/Thrillist
Like many French things that have been Americanized, the Western omelet is less fussy, a good deal bigger, and doesn't pair as well with cigarettes and obscure poetry.
The American-style omelet features a cratered golden crust -- an effect of cooking the eggs over high heat and then leaving them unaccosted in the pan to set. The omelet is then filled with goodies (or not) and folded in half. They are much easier to cook than their French counterparts, which require more attention and more skill at rolling the finished product, and they are the better option for those wary of undercooked eggs.
American Omelet Recipe
Total Time: 10 minutes
Yield: 1 omelet
INGREDIENTS:
3 large eggs, at room temperature
Pinch of kosher salt
1 teaspoon unsalted butter
1 tablespoon olive oil
Fillings of choice (cheese, ham, diced peppers, etc.)
DIRECTIONS:
Crack eggs into a small bowl and season with salt. Beat the eggs with a fork until the whites and yolks are thoroughly blended.
Heat a 10-inch nonstick skillet over medium heat for a few minutes. Add butter and olive oil. Swirl around in the pan to coat the bottom and sides.
Once the butter melts, pour eggs into the center of the pan and stir vigorously with a silicone spatula for 5 seconds. As soon as curds begin to form, lift the pan and tilt it around until the excess liquid pours off the top of the curds and into the pan. While the eggs are still wet, top it with cheese and other toppings (don't overdo it). Leave it alone until a crust forms along the edge.
Shake the pan gently to make sure the omelet is loose, then use your spatula to flip one side over the other into a half moon. Transfer to a warm plate and serve immediately.