3 Deliciously Inventive and Bartender-Approved Sangria Recipes
This summer, you could just throw a ton of chopped fruit all willynilly into a punch bowl with a big ol' bag of Franzia and hope for the best (which may be the move if you intend to day-drink buckets of the stuff without regard to taste) but you can do better, and you should. To get you inspired, here are three classy and creative takes on a traditional sangria recipe courtesy of some badass bartenders from around the country.
Izakaya sangria
This "thirst-quenching and sessionable" recipe was developed by Tin Roof's Claire Sprouse and Chad Arnholt for Izakaya, a Japanese restaurant in Houston. "I really think sake in general and sake-based cocktails are due to be revived from the dark shadows of sake bombs and bad sushi pairings," says Claire.
Total Time: 10 minutes
Yield: 16-20 servings
INGREDIENTS:
2 750-milliliter bottles junmai sake
4 mandarins (or other sweet citrus), wheeled
3 Bartlett pears, sliced
24 ounces brewed ginger-spiced tea*, divided
16 ounces fresh lemon juice, divided
8 ounces pear brandy (like St. George or Clear Creek)
DIRECTIONS:
Combine pears and mandarins in a glass jar with the sake and add 2 ounces lemon juice (to prevent pears from browning). Let rest for 24 hours.
* Prepare tea (store-bought or make a tea from dried ginger root and cloves). Add 16 ounces of tea to the sake-fruit mixture; reserve.
Combine the remaining 8 ounces tea with the sugar to create a ginger syrup.
Add ginger syrup and pear brandy to the sake-fruit mixture and stir well.
Add 8 ounces lemon juice, stirring and adding more to taste.
Chill and serve over ice.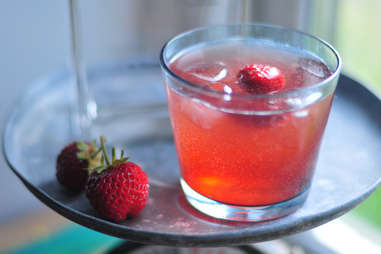 War of the Rosés
Chief mixologist Clint Spotleson of the Renaissance Phoenix Downtown Hotel says, "I took a lighter approach for the hot Arizona summer by using Encanto pisco as a base and complementing it with Terredora Rosaenovae. I round out the duo with lime, strawberry, rosemary, and orange flavors. I think seasonal with sangrias, and there's always a way through flavors to communicate how that sangria makes you feel. A heavy red and big aged brandy with minimal citrus will bog you down during beach/ pool season, but it's great when the snow starts to fall."

Total Time: 10<span> minutes
Yield: 1 serving
INGREDIENTS:
1.5 ounces pisco de Encanto
1/2 ounce Pierre Ferrand dry Curacao
3/4 ounce lime juice
1/2 ounce orange juice
1 large strawberry, muddled
1 ounce rosemary syrup
2 ounces Terredora Rosaenovae
DIRECTIONS:
Shake ingredients briskly, add Rosae, quick roll, and fine-strain into a snifter filled with ice.
Garnish with strawberries and a rosemary sprig, and rose petals (optional).
Garden sangria
For a white sangria, The Bonnie's Mike Di Tota recommends a white boxed wine with a little bit of a bite. "Something like Sauvignon Blanc is good. Dry, and not too round or buttery. You're going to be adding sweetness to it with the fruit. Stay seasonal -- stone fruit is a particularly good option in the summer. Apple and cucumber is also a nice combination, and adds a bit of color to the white wine. Careful with colorful fruits with a white sangria. Strawberries will turn the mixture pink!"

Total Time: 2 days, unless you prepare ahead
Yield: 12-15 servings
INGREDIENTS:
60 ounces boxed wine (something on the drier side)
2 ounces lavender-infused Dolin dry vermouth

1 (750-milliliter) bottle Dolin blanc vermouth
2 ¼ teaspoons lavender flowers
DIRECTIONS:
Add 3/4 cup of Dolin blanc vermouth & 2 ¼ teaspoons of lavender flowers to a saucepan.
Bring to a boil and then simmer for 7 minutes, stirring every 2.
Remove from heat and let cool.
Add the rest of the bottle of Dolin blanc vermouth in a container, cover, and let steep overnight (should be a purplish color).
Strain the next day.
Make thyme syrup. Combine sugar and water in saucepan. Stir to dissolve sugar. 
Bring simple syrup to boil. Add thyme.
Let cool. Strain to remove thyme. Store.