How to Cook the Perfect Steak at Home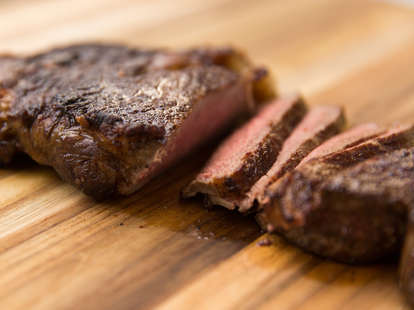 Drew Swantak/Thrillist
Drew Swantak/Thrillist
Unless it includes a free voucher for more steak, it's rarely worth it to pay 50 bucks for any cut of meat, especially when it's this easy to cook one at home. I bought this prime ribeye steak for $25, and cooked it in a skillet to medium-rare perfection in the time it takes to even get noticed by a maître d'.
Choose your cut
This is a 16-ounce prime ribeye steak, cut ½-inch thick. You want to choose the freshest, best quality beef you can find. Marbling means it's fatty and full of flavor, so white stuff is good. Let your steak come to room temperature. This will ensure it cooks through evenly.
Render fat
Heat a cast-iron skillet over medium heat. Place the steak upright on its fatty edge to render fat into the pan. You may have to use tongs to hold it in place.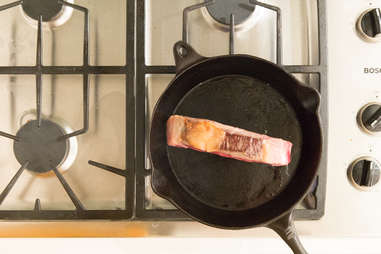 Brown the edges
Rotate the steak in various positions to get a uniform, browned crust. There should be enough rendered fat to cover the bottom of the pan after 5-10 minutes. If there's more, drain out the excess fat.
Brown the flat side
Lay the steak on one of its flat sides and cook for 5 minutes.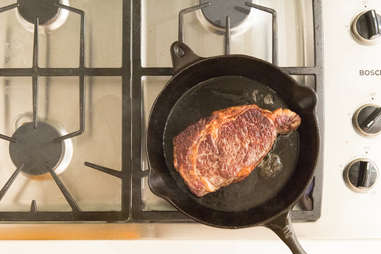 Flip and brown some more
Ditto for the other side, 5 minutes.
Remove the steak
Turn off heat and transfer steak to a plate.
Discard fat
Carefully pour the rendered fat into a small dish and discard.
Return steak to the pan and add 3 tablespoons of unsalted butter and 2 cloves of garlic, peeled and smashed.
Salt it up
Don't be shy, make it snow, baby!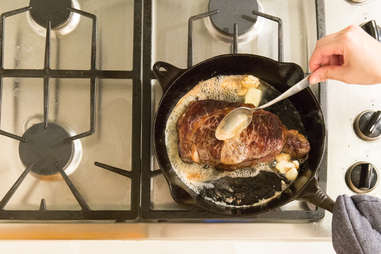 Baste it
Using a spoon, constantly baste the steak with melted butter, for 10 minutes.
Flip and finish cooking​
Flip the steak, sprinkle more salt on it, and cook for 10 more minutes.
Rest it
Transfer the steak to a plate and rest it in a warm spot for 15 minutes (you can stick it in the oven at 150℉).
Cut it up
Cut it into slices, against the grain, and eat immediately with your bare hands. Or a fork and knife if you must, but something about eating meat with your hands makes it better.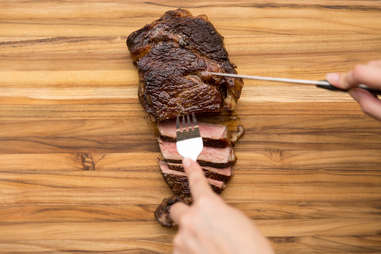 Stand for applause
Even if it's coming from your own greasy hands.