How to Make Perfect Roast Chicken in Only an Hour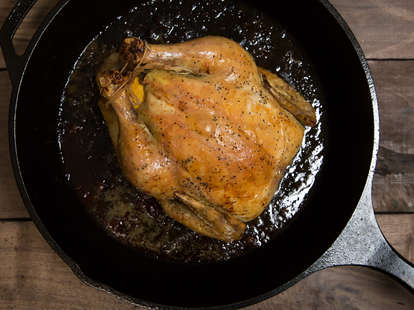 The first meal a guy ever cooked for me was roast chicken. I was so impressed, which shows I was also incredibly naive. Roasting a chicken is stupid-easy: you don't even need a roasting pan.
Using a cast-iron skillet, it only takes an hour to cook a juicy, tender bird with crispy, salty skin. You already have all the equipment you need. Just go get a bird. And also someone you can impress who hasn't read this yet.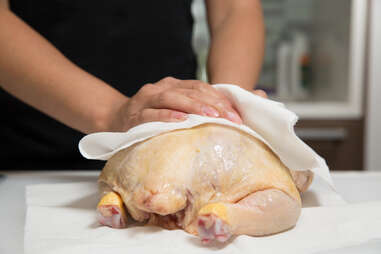 Pat it dry
Buy a 5-pound chicken with giblets removed (or shove your hand up there and remove them yourself). If you have time, salt the chicken the night before and refrigerate it uncovered. This helps get the skin extra crispy.
Heat the oven to 375°F. Place the chicken on a work surface or cutting board, and pat it dry with paper towels.
Trim it
Snip off any loose skin around its butt.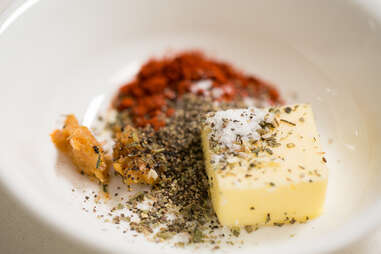 Season it
In a small bowl, combine 1 tablespoon of softened butter with 2 cloves of garlic (minced), 1 ½ teaspoons minced fresh thyme, and 1 teaspoon paprika.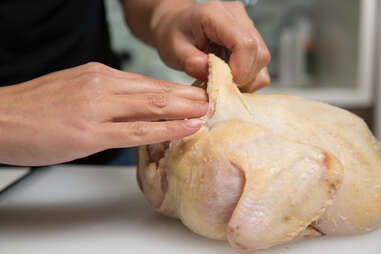 Butter it up
Starting at the neck, insert fingers under the skin to loosen it from the meat. Be careful not to tear the skin. Rub the butter mixture in between the flesh and loosened skin.

Stuff it
Stick two lemon halves and a few rosemary sprigs into the chicken cavity.
Grease it up
Drizzle olive oil on the outside of the skin and rub it all over. Season generously with salt and pepper.
Truss it
Place the chicken, breast-side up, on a rack in a roasting pan or large cast-iron skillet. Cross the legs and tie them together with kitchen twine. Tuck the wings under the body.

Roast it
Roast in the oven for 45 minutes, then crank the temperature to 450°F (do not remove chicken) and roast for another 15 minutes or until an instant-read thermometer inserted into the inner thigh (but not touching the bone) registers 165°F.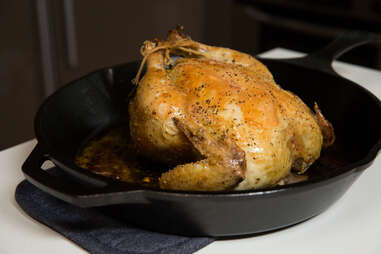 Give it a rest
Remove the chicken from the oven and place on a cutting board. Loosely tent it with aluminum foil and let it rest for 15-20 minutes before carving.