How to Season a Cast-Iron Skillet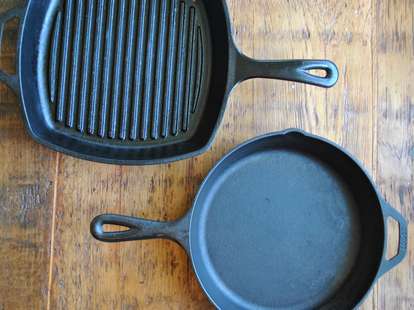 Liz Childers/Thrillist
Liz Childers/Thrillist
Cast-iron cookware isn't just the affordable workhorse of the kitchen. It's also incredibly durable: a properly seasoned and maintained cast-iron pan can last for generations. "Seasoning" is a chemical reaction that happens when oil gets baked and bonded to the iron at a high temperature. This creates a natural, nonstick surface on the pan. The more you cook with it, the better it gets, which means that $30 cast iron will far outlast any expensive nonstick pan, whose coated surface is prone to nicks and cuts, rendering it unusable. With proper care and seasoning, your skillet will even outlive you.
Prep the oven
Preheat the oven to 350°F. Place a layer of aluminum foil on the bottom rack.
Scrub it
New cast iron may have a manufacturer's coating that you'll want to remove, and used cast iron may have dirt and rust, so use soap, water, and a scouring pad to scrub it clean.
After you season your pan, however, be sure to avoid soap and heavy scrubbing because they'll ruin that seasoning you're trying so hard to maintain. Don't fret, germaphobes: cast iron reaches 400ºF in a few minutes and is sterile at only 212º F, so soap isn't necessary.
Oil it
Dry the pan completely then use a cloth or paper towel to apply a very thin, even coating of melted vegetable shortening or lard to all surfaces. Be sure to only use a solid fat and just about a tablespoon of it. Too much oil will result in a sticky finish, as will vegetable oil.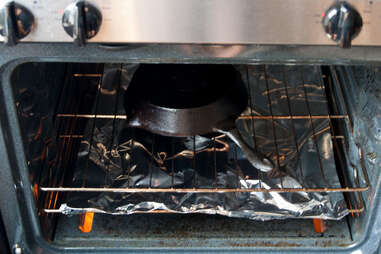 Bake it
Turn the pan upside down (to prevent pooling) and place it on the top rack of the oven (position it over the foil to catch any drips). Bake for 1 hour, then turn off the oven, and let the pan cool in the oven. For best results, do this 2 or 3 times, but you can use it after only one treatment.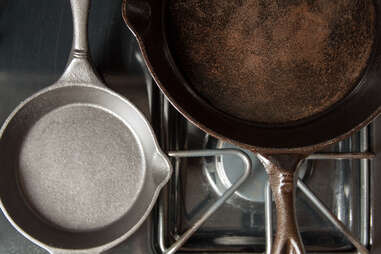 Use it
Cast iron is great for everything from pork chops to cornbread to cobbler, and will get better every time you cook with it. With new pans, start off with foods high in fat, like bacon or fried chicken, to help establish the seasoning. Over time, your skillet will develop a dark, smooth surface like the pan pictured on the right.
Maintain it
Wash your pan with hot water and a sponge to remove food residue. To scrub off tough bits, pour coarse kosher salt into the skillet while it's still warm. Scrape the pan with the salt and a sponge or dish towel, then rinse with hot water. Let it dry completely, then use a cloth or paper towel to rub a little vegetable shortening or oil on it. Store it in a dry place and use often. If food sticks to the surface or if the skillet appears dull or rusted, then you'll know it's time to re-season.