Whiskey & Coke Chicken Wings Take the Classic Combo to Bold New Places
Twisted's Whiskey and Coke chicken wings take the classic combo to bold new territories. Get your napkins at the ready, because these wings are smothered in a finger lickin' good sauce made with whiskey, Coca-Cola, brown sugar, Sriracha, and a whole bunch of other spices that make these wings sing.
Whiskey and Coke Chicken Wings
INGREDIENTS:
1/4 cup Sriracha
1/2 cup whiskey
1/2 cup Coca Cola
2 tbsp brown sugar
2 tbsp soy sauce
2 cloves garlic, minced
2 lb chicken wings, separated into 'wingettes and drumettes'
1/2 tbsp black pepper
1 tbsp paprika
1 tsp cayenne
1/2 tbsp garlic powder
1 tsp salt
1/2 cup plain flour
3 eggs
2 tbsp cold water
sunflower oil, for deep frying
DIRECTIONS:
Get started on your prep. Ensure that your wings are nice and dry and are as close to
room temperature as you can muster.
Pop them on a small plate alongside 2 bowls, one containing your flour and the other
with your eggs in.
Pop your garlic powder, paprika, cayenne, salt and black pepper into your flour bowl and
mix to combine.
Add your water to the eggs and whisk until uniform in color.
Dunk a wing into your egg, lift out and allow to drain briefly before placing into your
seasoned flour. Turn your wing to give it a good coating then shake off the excess.
Repeat with all of your wings.
Get your sunflower oil up to 430ºF and fry your wings in two batches for 7 or so minutes.
You want good color but also for your wings to be cooked through and semi-confited in
the oil. Bring out, drain and pop onto a large baking tray.
In a pan over medium heat, add your whiskey, Coke, Sriracha, soy and sugar. Bring up to
a simmer to ensure all has melted then pop in your garlic. Cook for 5 or so minutes to
reduce the sauce and get it nice and thick and sticky.
Glaze your rested wings liberally with the sauce, then throw in the oven to broil on high
for 3 minutes or so.
Serve with a cooling dip- ranch works well here- and a few crudités to cleanse to palette
between wings.
Napkins are useful!
Enjoy!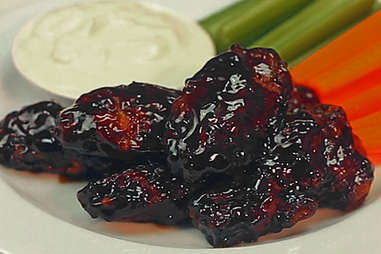 Sign up here for our daily Thrillist email, and get your fix of the best in food/drink/fun.