Maple Bourbon Churro Jerky Jam. Yes, It's Jam Made From Beef Jerky.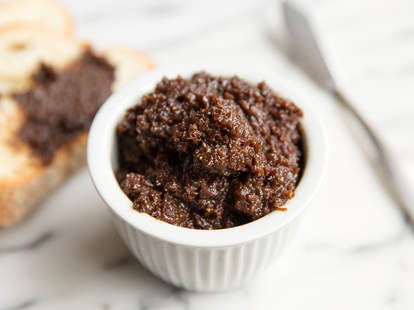 Perry Santanachote/Thrillist
Despite their intimidating name, we decided to team up with these Three Jerks to create two Thrillist-approved jerky flavors. Thankfully, it turns out they're actually really nice guys; they just make a mean jerky, like this Maple Bourbon Churro. After inhaling the first bag they sent me, I begged for another and turned it into a savory jam that's infinitely better than that grape jelly you smeared on your toast this morning. 
Simmering the jerky with coffee, apple cider vinegar, maple syrup, and brown sugar -- plus just a hint of Sriracha -- boosts all the meat's flavors, so the spread is the perfect blend of sweet, savory, and spicy. Put it on toast, put it on more jerky, hell, smear it on fruit so that healthiness can feel its own inferiority. It's actually that good.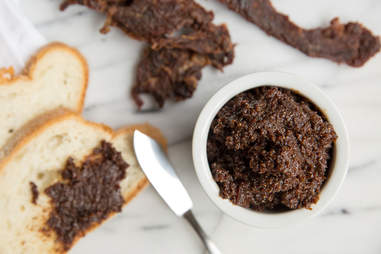 Perry Santanachote/Thrillist
Jerky Jam Recipe
Total Time: 1 hour, 20 minutes
Yield: 1 ½ cups
INGREDIENTS:
1 tablespoon vegetable oil
1 medium yellow onion, diced
3 cloves garlic, chopped
8 ounces jerky, cut into 1-inch pieces
1 cup water
½ cup coffee
¼ cup apple cider vinegar
¼ cup maple syrup
¼ cup packed dark brown sugar
2 teaspoons Sriracha
½ teaspoon freshly ground black pepper
DIRECTIONS:
Pour oil into a medium saucepan over medium-high heat. Add onion and garlic; cook, stirring frequently, until onions are translucent, about 10 minutes.
In a small bowl, whisk together 1 cup hot water, coffee, vinegar, maple syrup, sugar, Sriracha, and pepper. 
Pour the mixture into the saucepan along with the jerky; bring to a simmer, reduce heat to low, and cook for 45 minutes, stirring occasionally.
Remove from heat and let cool for 20 minutes.
Transfer jam to a food processor and pulse for 2 to 3 seconds.
Use immediately or let cool completely and store in a covered container in the refrigerator for up to 2 weeks.
Perry Santanachote/Thrillist