Lox Bagel Pizza Is How You Do Breakfast for Dinner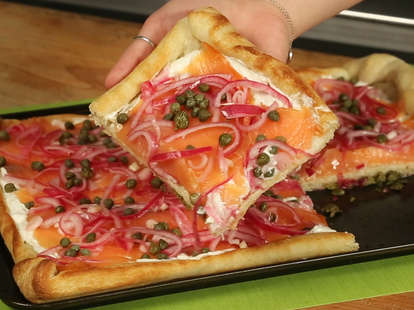 Thrillist
Thrillist
Lox Bagel Pizza
Total Time: 40 minutes
Yield: 1 pizza, serves 4-6
INGREDIENTS:
1 medium red onion, about 5 ounces, sliced thin
½ teaspoon sugar
½ teaspoon salt
3 sprigs of thyme
Bottle of rice vinegar, white wine vinegar, or apple cider vinegar
1 small clove of garlic, halved
8 ounces cream cheese, warmed
½ cup heavy cream
½ cup crème fraîche
2 cups sour cream
Pre-made pizza dough
10-ounce packet of smoked salmon
⅓ cup capers
DIRECTIONS:
Boil 3-4 cups of water.
Fill a vessel like a Mason jar with salt, sugar, sprigs of thyme, and garlic. Mix the contents of the jar together.
Place sliced onions in a sieve or strainer and place in the sink. Take boiling water and slowly pour over onions. Allow them to drain, unmoved. Once fully strained, place onions in the vessel with spice mixture.
Fill jar with vinegar of your choosing until onions are completely submerged. Seal up your jar and shake vigorously until sugar and salt have fully disintegrated and the spices have been evenly distributed throughout the onions.
Allow onions to pickle for at least 30 minutes before using. These will be good for up to three weeks.
Roll out pizza dough onto a baking sheet. Brush the dough lightly with olive oil and cook according to instructions.
In a large bowl, mix together cream cheese, sour cream, crème fraîche, and heavy cream until smooth and with a sauce-like consistency. Set aside.
Once pizza crust is cooled to room temperature, layer on the sauce mixture with a spatula, making sure to spread evenly.
Cover the sauce layer with thin slices of smoked salmon, covering as much of the pizza as possible.
Sprinkle on a layer of pickled onions, to taste, and top with capers.