The Carolina-Certified Shrimp & Grits Hushpuppy Recipe
Hopefully you're all prepped for your Super Bowl party by now, with all the ingredients for Carolina barbecued pork-and-bacon meatballs in the fridge. But if you're a die-hard Panthers fan, why not go all out? Shrimp & grits hushpuppies are a combination of two of the South's most highly regarded dishes. It doesn't get more Southern than this, especially when paired with the meatballs.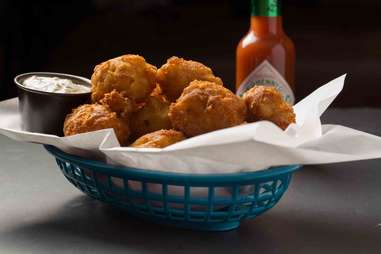 Shrimp & Grits Hushpuppies Recipe
Total Time: 30 minutes
Yield: Enough for a crowd
INGREDIENTS:
1 ½ cups all-purpose flour
1 ½ cups cornmeal
2 tablespoons baking powder
2 tablespoons sugar
1 tablespoon baking soda
2 teaspoons kosher salt
½ teaspoon cayenne
1 yellow onion, grated
1 ¼ cups buttermilk
2 large eggs
1 pound raw shrimp, peeled, deveined, and minced
2 cups shredded sharp cheddar cheese
Canola oil, for frying
Hot sauce, for serving
Tartar sauce, for serving
DIRECTIONS:
In a large mixing bowl, whisk together flour, cornmeal, baking powder, sugar, baking soda, salt, and cayenne. Add onion, buttermilk, and eggs; mix until blended. Stir in shrimp and cheese until just combined.
Pour oil to a depth of 2 inches in a deep fryer or heavy pot over medium-high heat until a deep-fry thermometer reads 375°F. Using a tablespoon, drop small rounds of batter into the oil, making sure to not crowd the pan. Dip the spoon in a glass of water after each hushpuppy is dropped in the oil. Cook, stirring occasionally, until golden, about 3-4 minutes. Remove hushpuppies from the oil and drain on paper towels.
Serve with tartar and hot sauce.
Sign up here for our daily Thrillist email and subscribe here for our YouTube channel to get your fix of the best in food/drink/fun.