7 food-court mashups that will make you actually want to eat at the mall
Perry Santanachote/Drew Swantak
Perry Santanachote/Drew Swantak
It's lunchtime, and you're stuck at the mall frantically gift shopping for everyone on your list, but just because your mood is foul, doesn't mean your mall meal has to be. By taking a little bit from various counters, you can make your stale, average food court lunch so damn good you might actually go back to the mall even after you finish your holiday shopping. Eventually.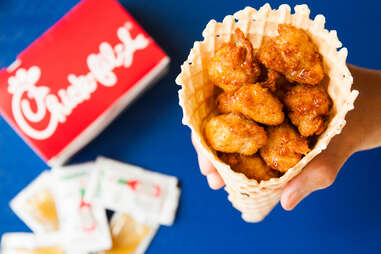 Chicken and Waffle Cone
There's only one thing that beats chicken and waffles you can carry in one hand: The Legend of Zelda: Ocarina of Time. But considering you can't eat a classic '90s video game, this will have to do while you're browsing the hilarious T-shirts in Hot Topic.
THE MASHUP: 1 Dairy Queen waffle cone + 1 Chick-fil-A 12-count chicken nuggets (ask for honey and Tabasco). Fill cone with nuggets. Drizzle honey and hot sauce on top to taste. Pro tip: DQ has a special plastic cone cup that will prevent spicy honey from trickling all over your fresh threads.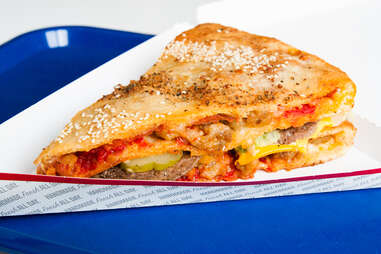 Stuffed Pizza Burger
Sbarro's stuffed pizzas are already pretty damn good on their own, but hamburger meat and Big Mac toppings turn 'em into a meal with enough calories to jump-start an out-of-control shopping orgy at that Hot Topic we already talked about.
THE MASHUP: 2 slices Sbarro stuffed pizza (we got the sausage and pepperoni) + 1 McDonald's Big Mac. Take the patties, cheese, lettuce, and pickles out of the burger, mopping up as much special sauce as you can, and stagger them on one slice of pizza. Top with the other slice. Throw those buns at the wall.
Egg Roll Chimichangas
Here I thought Taco Bell's menu was complete with every bastardized Mexican dish out there, but I was shocked, SHOCKED, to find that they don't serve chimichangas. This is America, is it not?! Make it right by slathering enchilada sauce over some equally bastardized Chinese egg rolls. Then finish it off by buying things that are actually made in those countries, which is everything.
THE MASHUP: 2 Panda Express chicken egg rolls (ask for hot mustard) + 1 side Taco Bell red sauce. Pour red sauce over egg rolls. Drizzle mustard on top. Eat with a fork and knife, you animal.
Honey Walnut Shrimp Po'Boy
Considering that finding a decent shrimp po'boy in any mall is usually a pipe dream, the fact that you can assemble one so cheaply will likely make people rise and slow-clap as you hold it aloft for the jealous masses.
THE MASHUP: 1 Panda Express honey walnut shrimp (single size) + 1 toasted 6-inch Subway sandwich (we got Italian bread) with lettuce, tomato, and mayonnaise. Open that sub up. Lay down the shrimp. Close sub. Eat.
Cheesy Fried Rice
Inspired by the sausage, egg, and cheese fried rice at Talde in Brooklyn, this low-brow version comes kind of close with the help of Panda Express' fried rice mixed with Auntie Anne's cheese dip and pretzel dogs. I said, "kind of".
THE MASHUP: 1 Panda Express fried rice + 1 order Auntie Anne's mini pretzel dogs + 2 Auntie Anne's melted cheese dips. Stir the cheese into the fried rice until combined. Make a crown with the pretzel dogs because you're now king of the food court.
Chicken Parm Sandwich
Though you can usually find a very mediocre chicken Parm somewhere in the mall, our move using Chick-fil-A is so much more delicious. It's as simple as that.
THE MASHUP: 1 Chick-fil-A chicken sandwich (ask for it extra crispy) + 1 slice Sbarro cheese pizza. Open up the sandwich, remove the pickles. Eat them as amuse-bouches. Slide the cheese & sauce right off the pizza and onto the chicken patty. Lose the crust. Put the top bun back on. Prego!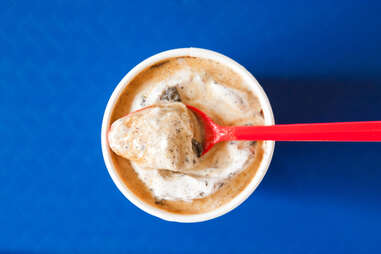 Blizzard Affogato
If the sugar in a Blizzard isn't enough to power you through a trip to the mall, spiking it with a couple shots of espresso should do it. Suddenly searching for the perfect gift at a dozen stores run by bored, half-baked teenagers doesn't seem so futile.
THE MASHUP: 1 Dairy Queen mini Blizzard (we got Oreo, but you do you) + 1 Starbucks double espresso. Pour espresso over the Blizzard. Eat quickly.