How to Lace Your Mac & Cheese With Marijuana for an Epic 4/20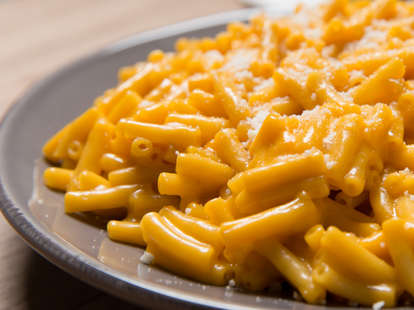 Perry Santanachote/Thrillist
As if macaroni and cheese wasn't irresistible enough, I made a batch of it with cannabutter. All I have to say is, make sure you've got all servings accounted for. Otherwise you'll end up eating three bowls and get lost gazing into the crevices of the fourth one. Dude! Have you ever noticed that macaroni noodles are shaped like bongs?
Marijuana Macaroni and Cheese Recipe
Total Time: 10 minutes
Yield: 4 servings
INGREDIENTS:
1 (7 ¼-ounce) box of packaged stovetop macaroni & cheese
1-2 teaspoons cannabutter
DIRECTIONS:
Make macaroni and cheese according to package instructions but substitute 1-2 teaspoons of butter or margarine for 1-2 teaspoons cannabutter. 
Wait 45 minutes then imagine yourself as a Smurf taking rips from a macaroni bong.